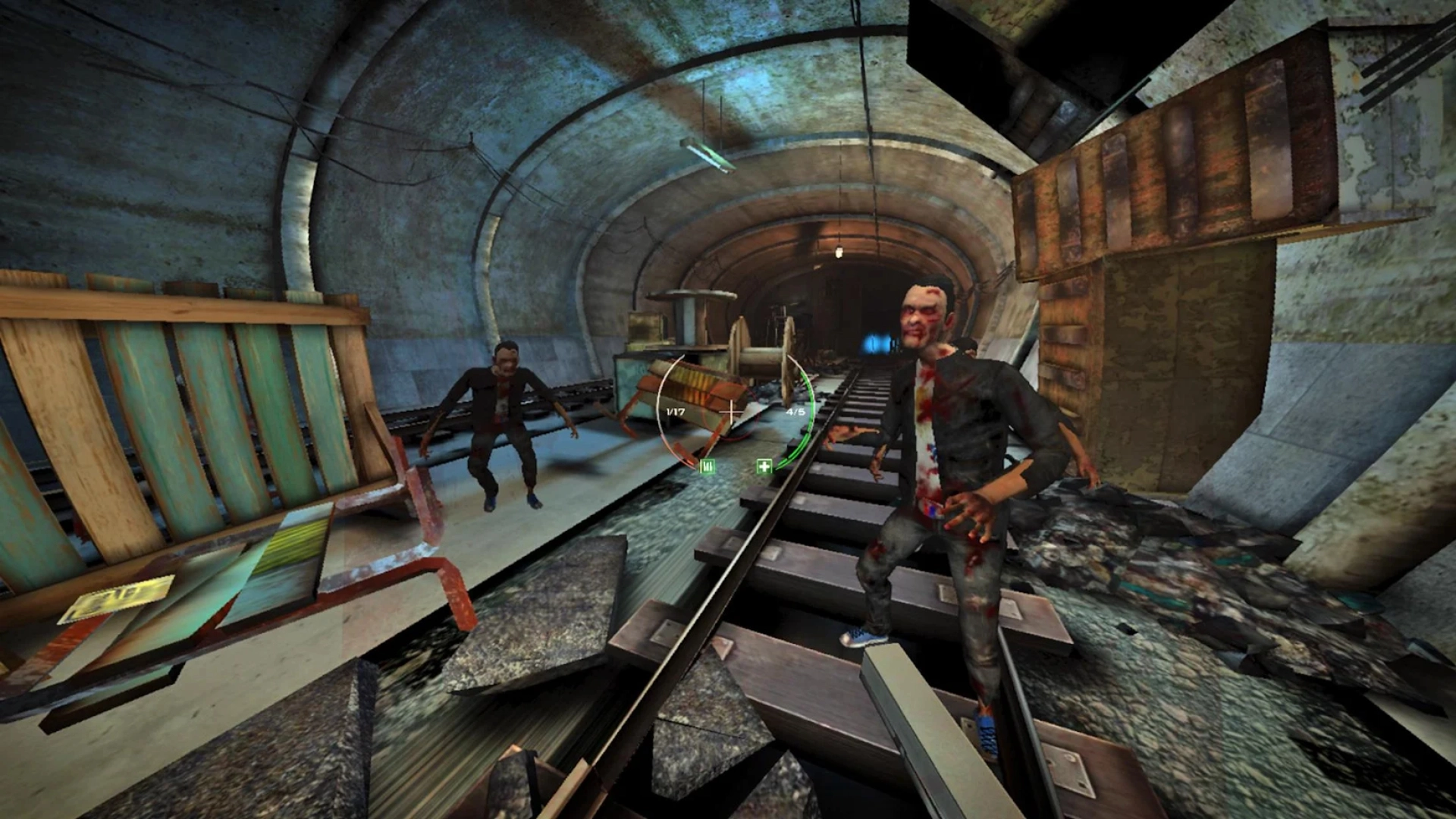 The best virtual reality (VR) games can help you escape to another world, learn something new, or shoot bad guys with a machine gun. When virtual reality was first developed, games were one of the first use cases that really interested people. Since then, VR games have become more advanced and popular. With a VR headset that is cheaper than a game system, you can transport yourself to a whole new space, fly planes, see impossible views, and fulfill your wishes safely in your living room.
VR games are key to the industry right now, and the industry has responded with some great titles. They are trips to places you can only imagine. They take you off your feet and move to the beat of the music. All of this can be yours at an affordable price and with a little extra space for the sofa. The right game is here for you. Here are some of our favorites.
Best overall: Half-Life Alex VR
The pure realism and immersive world that Valve's software brings to the table has been widely praised for its detail and design. Valve has rebuilt the world of Half-Life from scratch, especially for virtual reality. In this new environment, users have a set of tools that are ideal for navigating a world where you can pick up, throw and generally manipulate anything.
The game is intuitive, yet challenging. There is a mix of puzzle solving and combat that will keep even the average player busy from start to finish. The game also stays true to Half-Life lore, completing the main character's story with an extremely rich climax. Obviously, gaming in such a world requires a lot of power, so a portable headset like the Oculus Quest won't work unless you've connected it to a powerful PC.
All in all, as long as you have the equipment you need, this is a great adventure that will keep you excited through the various difficulty levels. If you are a Half-Life fan, this is a must play game. Even if you're not a fan, there's a lot of background here to follow the story without regretting a single step.
Best Music: Beat Games Beat Saber
If you've ever been curious about virtual reality in the past three years, you've heard of Beat Saber. This game lets you reproduce your Jedi-meets-Guitar Hero fantasies. The game is simple. Stand still in one place, two lightsabers in your hands and boxes come to you. If they catch up with you, cut them off. Switch to music and you'll get a great workout too. You can replay the levels to improve or go to the next level.
This is one of the cornerstones of VR games due to its simplicity and compelling nature. All genres of music are available, from hip-hop to rock, and the game features famous artists such as BTS, Imagine Dragons, and Green Day. Popular music packs cost more, so this game can get expensive quickly. While you can download alternative music packs from the page, it stops game updates and makes things like multiplayer incompatible until you reload the pages. If you don't download from the site, you can buy around 100 copies.
Beat Saber is the ultimate VR game every VR headset should have. It is not the most interesting experience, but it is one of the easiest and most fun that anyone can learn. Bring your Oculus Quest to the party, turn on Beat Saber and you'll have hours of fun.
Best sport: Crytek The Climb 2
If you've always wanted to climb a mountain or rock climb, The Climb 2 might be the right choice for you. This game is a sequel to the original The Climb, which puts you on a rock face with nothing but chalk, handles, and an arrow to guide you. As you make your way past cliffs, loose rocks, and ladders and pulleys, you will be treated to breathtaking scenery.
In the game, you can choose one of five environments, including a desert, tropical rocky beach or even a city. The Climb 2 only has 15 levels, but it has some replay ability and the challenges make the game repeat.
The levels are challenging and exciting. The environments have a lot of nature and even culture. You can climb and jump from one handhold to another. There are some unexpected surprises, like poisonous plants and steep slopes that will keep you from reaching the top of your climb, giving you particularly fun, intense and sometimes dizzying views of everything around you.
Best Story: ILMxLAB Vader Immortal: A Star Wars VR Series
Star Wars fans, unite! Oculus and Lucas Films co-created this beautiful story set in the Star Wars canon between Episode 3: Revenge of the Seth and Rogue One: A Star Wars Story.
In this adventure, a smuggler and his apudroid get caught in a tractor beam and are dragged to the planet Mustafa. From there, Darth Vader himself recruits you to help him get the artifact. It turns out that you are a descendant of an ancient Jedi who can control an item that Vader needs.
The three parts of the story lead you through the whole adventure. Along the way, you'll learn how to use the force, use a lightsaber, and fire a blaster. You have to buy all three volumes, which is a bummer, but the volumes are cheap compared to the average game.
Best Multiplayer: ISOFT Star Trek Bridge Crew
The ship was made famous in Star Trek: The Next Generation (TNG) and now it's your turn to pilot it. You and up to three friends can use different stations on a Federation starship to complete missions in different locations around the bridge. The latest downloadable content adds next-gen content, including the Romulus and the Borg, who will face off against the Alliance's greatest enemies in a final showdown.
However, the graphics are not the sharpest. They are actually a bit cartoonish, without the realism. But then again, you're piloting a spaceship through the Alpha Quadrant, so maybe realism isn't the right feeling. Don't expect it to look like an episode of TNG, though. But if you can fly a spaceship and fight enemies by teaming up with your friends, this game is a must for fans of the show, but still fun for everyone.
Best Drawing: Nathan Rowe SculptrVR
For those of you who want to unleash your creative side, SculptrVR is a great game that lets you sculpt in VR. Some VR drawing games let you draw brightly colored ribbons across the sky, but SculptrVR offers more practical tools to work with. You can create shapes, colors and patterns and cut them out to enhance your art. Instead of drawing lines, SculptVR is more like placing clay in the sky and shaping it from there. It's more intuitive in many ways.
But the learning curve is quite steep when you learn the tools and their functions and which tools to use to create any shapes. It can be scary, but there's also a Discord community to help you out.
Sculptor VR is also a better way to create solid structures and characters. It works the way our brain wants it to work, more firmly and almost palpably. So if you want to unleash your creativity, this is a great game for you.
Best Social: Rec Room Inc. Rec Room
Rec Room is a fun online platform that isn't just limited to virtual reality. You can join the Rec Room on any platform, including Xbox, smartphone and PC. In the Rec Room, people can go outside, build and play, talk, and more. It's like a workshop for creators and gamers. You can create your own avatar, make friends, make games or play games made by others. It's a really nice place to hang out.
Of course, like any free chat open to the public, you may run into enemies. This is by no means a serious situation, but it is important to know who you or your child are talking to when you play. The game also has tools to block unknown people. Many people find the ability to create their own games liberating, and it's incredibly fun to see others having fun with these games.
Final judgment
If you have a PC that can run it, Half-Life: Alyx (view on Steam) is an incredibly immersive game set in a world built from the ground up for VR. Tell an engaging story with rich characters and intuitive gameplay that will keep you entertained for hours. All VR games should strive for what Half-Life: Alyx offers.
If you don't have powerful headphones or a computer, it's hard to go wrong with the Beat Saber (see Oculus). It is an addictive game that is easy to learn but very difficult to master. There are several ways to play, including multiplayer, solitaire exploration, and 360 modes that send blocks flying in all directions. Replay ability is quite high because every time you play you get a little better. It is simply a must for any VR enthusiast.