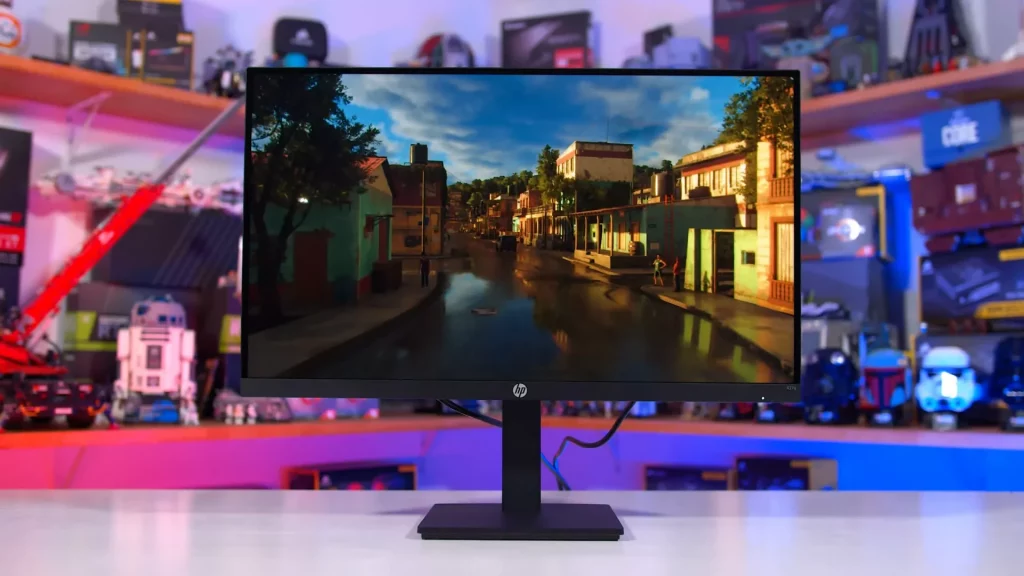 The HP X27q is one of the most affordable 27-inch 1440p 165Hz IPS gaming monitors you can buy right now. Currently on sale for $ 250 which is a really good price for these specs.
We will be interested to see which areas are being cut to achieve this price and if there are any significant trade-offs, because on paper it looks like stealing. Fully adaptive sync support with FreeSync Premium, comfortable size and resolution, and IPS technology that promises "1 ms" response times.
And yes. We nearly died from the shock, but it seems HP has realized that 25 letters and numbers are not needed in each display name. How good is it?
Design and form factor
The overall design and build quality are very simple, which is to be expected at this price point. The screen itself is quite light, there are hardly any high-quality materials, and almost all external surfaces are made of plain, plain black plastic.
Very easy rack installation, regular bezels on three sides and a little chin on the bottom. When HP failed to use something of that basic quality, it failed to include "gamer" elements like RGB lighting or weird patterns, which we like. However, it definitely looks and feels like a monitor on the cheaper end of the scale.
There are usually some trade-offs when using a modest design and it's not just about build quality. HP doesn't use a directional pad to control the OSD, instead opting for a standard set of five buttons on the back, which makes navigating the settings menu difficult.
Some game features are available, such as black enhancement modes, but only a limited selection of color controls. We also have a limited selection of inputs: a DisplayPort and an HDMI port, and the HDMI port is only 2.0, so it's limited to 144Hz, not all of the 165Hz the screen can do. Also no USB port.
However, we were pleasantly surprised by the HP booth. It's not the sturdiest or best stand we've seen, but it does support height adjustment and even rotation, so you can use the screen vertically without a third-party stand.
Extremely limited tilt-only mounts are often seen in this price range, but HP adds something simple and useful to the X27q.
View performance
To improve response time performance, HP is adding four overclocking settings to the X27q, the first of which is level 1. This is the classic overclocking setting. Response times are poor at just 11.5ms when using the 165Hz screen, causing some inaccuracy behind moving objects.
However. reverse ghosting does not occur because there is no overshoot, which is typical for settings that do not use overspeed. The cumulative deviation is only modest, suggesting that the balance between response times and overshoot is unbalanced to minimize overshoot.
Moving on to level 2 overclocking, this is where the monitor is most useful at 165Hz. Performance improves significantly to an average of 6.13ms gray to gray, and while overshoot has also increased, it's to a minimum that you won't notice while gaming. The cumulative variance is now at a more acceptable level too, and a score of 500 is about the average we would like to see for displays in this class.
Spaces above level 2 are practically unusable due to the high overshoot. While response performance improves, overshoot is noticeably worse, especially in level 4 mode, where huge ghost trails are seen behind moving objects. These modes are only included so that HP can request a 1ms screen response time, which it can only achieve with absurd and unnecessary overclocking.
Performance remains reasonable down to around 100Hz, but below 100Hz you should lower the overclock setting to level 1. This minimizes the amount of overshoot at lower refresh rates like 60Hz, although unfortunately it's not.
All that's left is that the screen can't offer any overdrive experience. This is quite typical for a budget monitor, we don't expect full overdrive optimization here, it's a standard trade-off as integrating features like variable overdrive would increase costs.
At the end of the day, you'll have to go from level 1 to level 2 overclocking depending on the refresh rate you're using, or just accept the trade-offs of using a setting. I would recommend level 2 above 100Hz and level 1 below 100Hz – general level 2 is preferred.
Color performance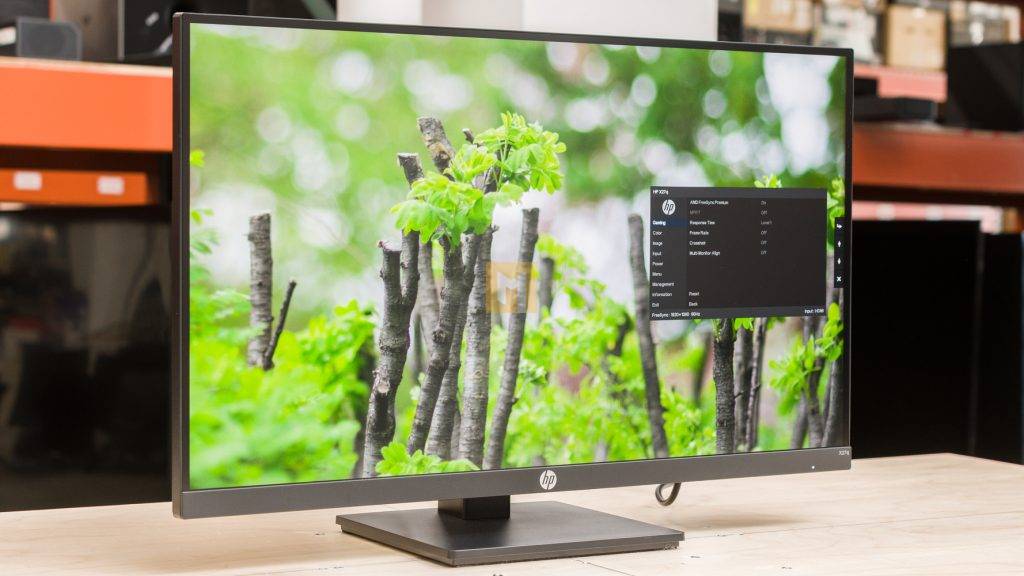 Color space: HP X27q – D65-P3
Color performance is next, and while HP doesn't advertise the color gamut anywhere on the product page, the X27q is truly a widescreen. Or should I say, wider than sRGB, because the support is a little weird.
We get expansion for the Rec.709 / sRGB range towards red, yellow and magenta, but no expansion for green or cyan. This creates a small imbalance in DCI-P3 coverage, we get decent coverage in red but little green and only 91.2% overall coverage. A little strange and not very suitable for displaying wide area images with accurate colors.
Recommendation 2020 only has 67% coverage, which is only 5 percentage points higher than sRGB-only monitors like the PX277 Prime and behind other monitors destined for DCI-P3. I think this is why HP hasn't promoted a wide color gamut, but it falls between standard and wide.
Standard color rendering
HP X27q – D65-P3, tested at native resolution, maximum refresh rate
Vertical CALMAN Ultimate, DeltaE Value Target: Less than 2.0, CCT Target: 6500K
Grayscale, Saturation and ColorChecker
By default, grayscale performance is average. The X27q eventually got a little too warm and the range was too high, leaving some tones darker than they should be. This caused poor deltaE performance.
Despite being a kind of widescreen monitor and not compressible by default, the oversaturation has been relatively small, as the color gamut expands significantly in the red direction only. So when we compare these results to other monitors, the X27q performs well in terms of ColorChecker performance, but is much more average for grayscale.
HP doesn't have an sRGB mode on this monitor and there are only a few other color controls, so generally the only important adjustment you can make is white balance. This could improve grayscale performance, but we don't have accurate results in the end.
The only way to significantly improve performance is a full calibration, we used Calman for this and got really solid results for sRGB. However, for larger displays like the DCI-P3, the coverage of this range isn't good enough, so I wouldn't recommend this display for anything other than sRGB.