Meta Quest Pro review: A next-gen headset for the VR faithful

Right now, few things make people's eyes roll stronger than the metaverse. Having grown up reading science fiction novels and dreaming of what virtual worlds might look like in the future, it's sad, but I get it. Mark Zuckerberg is so thirsty for these dreams to come true that he is betting billions of dollars and the survival of his company on the metaverse that is The Next Big Thing. Meanwhile, the average person still wonders what the point of a VR headset really is, aside from perhaps polygon creaking in Superhot or Beat Saber.
While it seems like VR headsets have been around forever, we're still in the early days of virtual reality. Just a couple of years ago, the company formerly known as Facebook brought virtual reality to the masses with Quest 2. And now with Quest Pro, Meta is looking to advance a new baseline of technology designed to make people feel more. digital worlds. realistic, intuitive and engaging. And honestly, I think the Meta did, because while it's hard to justify its $ 1,500 price tag, it's easy to see the potential of what this hardware can support.
Featuring a Qualcomm Snapdragon XR2 + chip, 12GB of RAM, and 256GB of storage, the Quest Pro offers 50 percent more performance than the Quest 2, according to Meta. However, the real challenge in designing this headset was combining its discreet design with something that is simple and comfortable to use and, in my opinion, the Meta has achieved an almost ideal balance.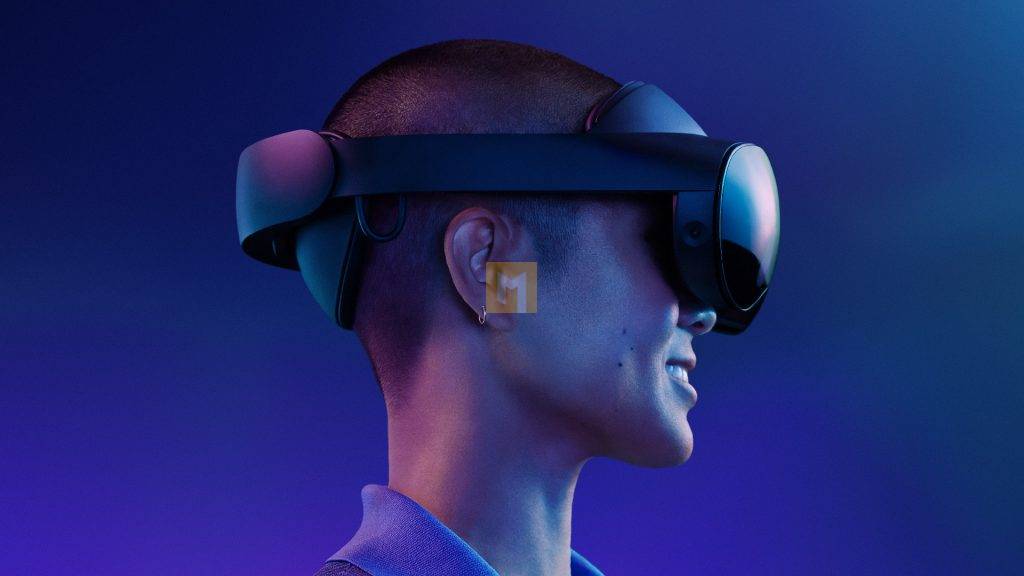 By switching to the new pancake lenses, the company was able to reduce the thickness of the earpiece while still offering a relatively high resolution of 1,800 x 1,920 pixels per eye. In comparison, it's higher than what you get from the Valve Index (1,440 x 1,600 per eye), but slightly lower than the Vive Pro 2 (2,448 x 2,448 per eye). While the Quest Pro's graphics surpass a 90Hz refresh rate, it's not as fast as most of its high-end PC-based competitors. It wasn't a big deal for me, as the graphics and gameplay were smooth and stutter-free. But I have to say, I've never had any issues with VR-related motion sickness, so your experiences may vary.
One nitpick is that I wish the Quest Pro's 96-degree vertical field of view were slightly higher. I found that with the headset's visor-like design and its FOV, you usually always have a little bit of the real world peeking out from the back of your eye. Fortunately, its 106-degree horizontal FOV is nearly the same or better than all of its competitors except the Vive Pro 2's 116 degrees.
Elsewhere, the Quest Pro has 10 sensors inside and outside the device. Five outward facing cameras support color passthrough, hand detection and more, such as understanding the scene without additional external sensors. Meanwhile, five inward-facing sensors track eye and face movements for features like foveated rendering and improved avatar animations, but more on that later.
Design and fit
To balance the trade-off between power and fit, Meta has cleverly used a curved battery built into the back of the headphones, so no cables or a power cell attached to the strap are required. And combined with a soft front pad and a handy adjustment handle, you get a super easy to put on and use headset. Further adjustments are made with a small dial on the front that changes the lens distance, while IPD (interpupillary distance) adjustment is done by simply moving each eyepiece left and right as needed. Overall, it's incredibly simple to set up, and thanks to the Quest Pro's fit calibration feature, the headset can remind you to adjust settings if you notice things aren't right. And when it comes to sound, you have built-in speakers on the headphone arms to support surround sound, but if you want to use your headphones, there's also a 3.5mm jack.
Although Meta has paid attention to creating comfortable and balanced headphones, the power of the Quest Pro can still be a bit of an issue. If you go in and out of VR, you may not notice much. But when the weight was just over a pound and a half, I noticed that my forehead sometimes hurt during the longer sessions. Usually, the way the Quest Pro sat on my head was enough to relieve the excess pressure. But I wouldn't even be surprised if this setup gave some people a slight headache during long-term use. And I'd also be remiss not to mention the sweat factor, as the leather front pad can get wet depending on how wet it is.
Controllers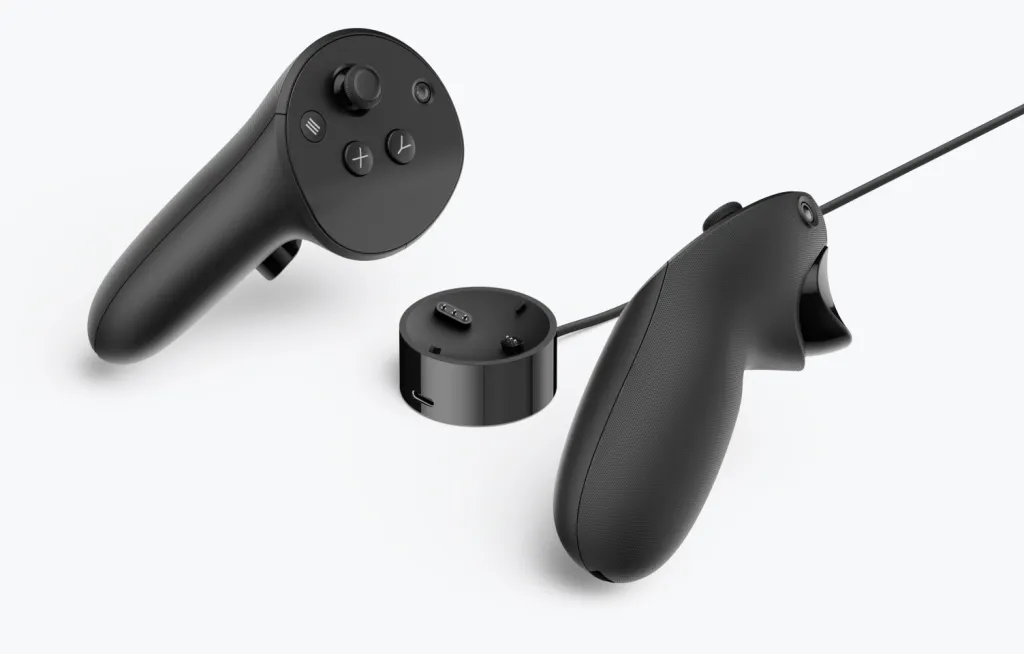 Another big part of the headphone series are the new Touch Pro controls. The meta uses the same basic structure as the Quest 2. The big difference this time around is that instead of relying on a large ring of LED light, the controllers now have their own built-in sensors for finger and hand detection. . Not only does this help simplify their design, but I've noticed a noticeable improvement in terms of accuracy and responsiveness.
The controls also have much improved optics, which adds an extra layer of immersion, especially in applications where you can rotate the controls and use them with a stylus. For example, in Painting VR, brushes use different sounds and vibrations to convey a sense of size and weight. The overall effect is very similar to Nintendo Switch's Joy-Con HD Rumble, but with even better force feedback accuracy.
I also appreciate the controller's delicately textured rubber grips, which make things feel safe even in the heat of virtual combat. I miss the straps Valve used on the Index controllers, which allow you to quickly switch between buttons and finger or hand gestures without lowering the controllers.
General performance and applications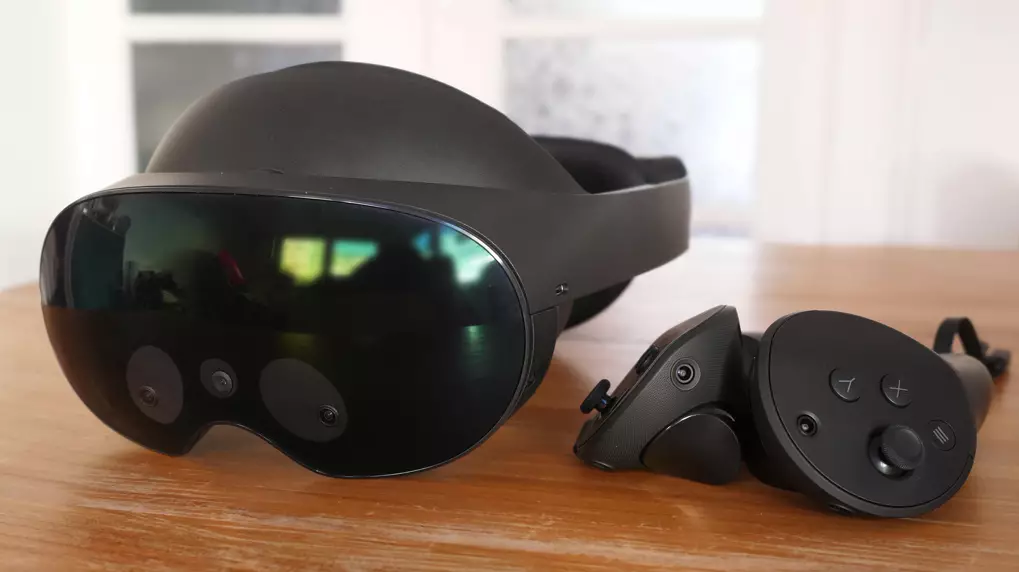 Of course, the real magic happens when hardware meets software, and at least out of the gate Quest Pro delivers pretty impressive performance. The optics of the headphones are sharp and eliminate almost all hints of the screen door effect. The text is also very readable and I had no problem writing part of this review in VR. When my colleague Cherlynn Low visited my virtual office in Horizon Workrooms, I think Quest Pro's combination of eye and face detection to give my avatar more realistic expressions could have been compelling enough to allow her to spend more time in VR. And for my part, the support for surround sound makes working in VR less like floating around in a simulation and more like actually working in an office with someone else. So even though Cherlynn was sick that day, we were able to work together without the risk of getting caught. what she had, and she seemed touching in a weird and nerdy way.
Also, there are many tentpole features, such as the Meta scene, which only includes a certain type of work, at least most of the time. I found that the Quest Pro was pretty good at automatically detecting floor and wall locations, so I didn't have to constantly draw boundaries for my wall-to-wall guardian. She even automatically detected some objects like my desktop (and she remembered them for subsequent sessions), making it easy to set up a virtual workspace that mimics my IRL. Even though I noticed the rooms were untidy, things weren't always going well.
Quest Pro's color walkthrough is also pretty impressive. Don't get me wrong, it's still not as good as using your eyes to navigate in flesh mode. But it's more than accurate enough that you can walk from room to room to grab a glass of water without lifting or bumping the Quest Pro.
In apps like Cubism, I loved solving location blocks in 3D puzzles and in Waiting for You to Die I had to fulfill my childhood fantasy as a secret agent. And with Tribe XR, I was able to enjoy the basics of mixing and beat-matching using the same equipment used by professional DJs, at least virtually. Quest Pro's improved three-window multitasking desktop mode makes it even easier to switch between apps and interact in VR mode. Or rather, if more 2D apps were available.