Alien ware Aurora R11 Review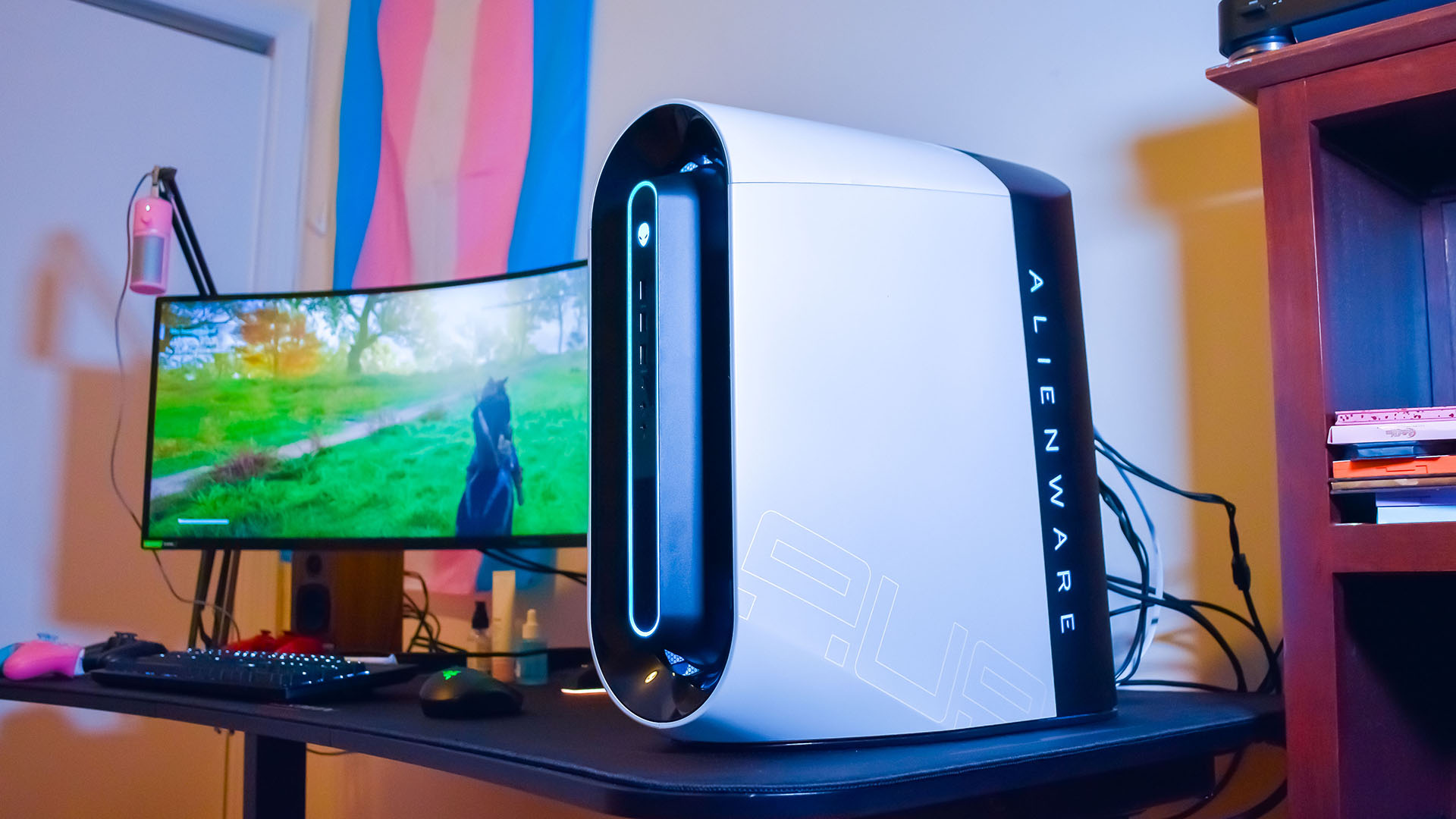 With a 10th Gen Intel processor and countless configuration options, the R11 lets you pick an upgraded PC that's in your price range now and upgrade later. The latest beast from the Dell subsidiary is available in six main configurations, ranging from the base model (priced at $930) to the high-end model with two graphics cards (priced at $4,956). I tested the Alienware Aurora R11 for two weeks and evaluated its design, performance, playability, audio, network performance, software, upgradeability, and cooling. Here's my full review.
Test Model: 10th Gen Intel Core i7 10700F and NVIDIA GeForce RTX 2060
The Aurora R11 is highly customizable and you can choose exactly the components you want. You can choose a 10th gen Core i5, i7 or i9 processor and for graphics you can get an NVIDIA GeForce GTX 1650 SUPER if you go for the base model, or up to two (yes, two!) NVIDIA GeForce RTX 2080 Ti cards on the more expensive model.
In some cheaper models, you can choose an AMD card. At the second level, you can replace the AMD Radeon RX 5700 (8 GB GDDR6) graphics card with an NVIDIA GeForce RTX 2060 (6 GB GDDR6) at no extra cost. You can choose a platform, liquid or air cooling, different powers, single or dual use and different amounts and types of storage space.
I tested the second level model with 10th Gen Intel Core i7 10700F, NVIDIA GeForce RTX 2060 (6 GB GDDR6), 16 GB RAM, two drives (256 GB SSD + 1 TB SATA) and Dark Side of the Moon – chassis and an unobtrusive smart cooling processor. And power supply 550W. The model I tested had air cooling, but in this model you get liquid cooling for $20 more than the base price.
Design: an adult slot machine
While some gaming PC towers have a bold design with clear glass, RGB fans and enough colors to make you feel alive, the Aurora R11 uses a completely different design. R11 is understated, not too flashy and not too loud. It is sleek and simple in appearance, with subtle lighting strips on the front of the elongated body. It looks like a computer for someone with refined taste, as opposed to a colorful show.
The front resembles a jet engine with a raised front panel surrounded by vents. The Aurora R11 is large and takes up a lot of space when placed on a table. This tower measures 17″ x 8.8″ x 18.9″ and you will want to put it under your desk. I put it under my desk but used an elevator to keep the tower off the floor.
Aurora R11 is available in two different frame color options: clear moon frame and dark side moon frame. The dark side of the moon ring is all black, while the moonlight option is white and the front panel is black. When you turn on the R11, an RGB halo ring lights up around the front panel and the Alien ware symbol lights up. The Alien ware icon also doubles as a power button, and you can adjust the color, flash, and create macros for specific games. I made a nice flashing macro for Destiny 2, then quickly fell apart and deleted it. However, you can set up a macro to smooth things out during playback and amplify it at other times.
This device has enough ports. It has multiple USB ports and even USB-C ports. One of the front USB ports has Power Share, which is a nice feature for device charging.
Display: OC Complete
The base clock frequency of the NVIDIA GeForce RTX 2060 (6GB GDDR6) is 1365 MHz the card is OC ready, so designed for overclocking. The card also supports VR and multiple screens (up to four).
The Aurora R11 does not include a screen in the package. I connected the R11 to a Free Sync and G-Sync compatible Asus VG245H gaming monitor, which is a 24-inch 1920 x 1080 monitor with a maximum refresh rate of 144Hz. The colors appear as expected and the text was crisp and clear. The videos ran smoothly and I didn't experience any issues with the screen quality or the video port connections.
Performance: absolute power
I was impressed with the overall performance of the R11, especially considering that the model I tested is one of the more affordable configurations. Start-up times are fast and it goes through several applications at lightning speed. It achieved an admirable score in the benchmarks, with a single-core score of 4403 and a multi-core score of 33335 in Geek bench 3. In Pockmark 10, it achieved a score of 6692, which was better than 92% of all scores. It ranked better in substantial and digital content creation and slightly lower in productivity.
When I plugged the hard drive into one of the high-speed USB ports, the games loaded with impressive efficiency. The Aurora R11 could handle just about anything you threw at it.
Game: Most games are played at the highest settings
Although the device I tested is the low-end Alien ware Aurora R11 model, it is by no means a low-end gaming desk. I'd say it's in the upper mid-range, as it handled most games at the highest settings competently. The first game I tested was Destiny 2, not the most graphically intense game, but not the slowest one either, and it can definitely lag behind on some machines during intense action sequences. With the sync limit set to 60, I ran Destiny 2 at the highest setting and it ran at a solid 60 FPS the whole time.
Then I ran Far Cry 5 and R11 reappeared. The R11 outperformed Far Cry 5's internal benchmark and kept the game lag-free on ultra-settings (with at least 60 FPS remaining). In fact, during the ultra's internal benchmark, it ran an average of 98 FPS, hitting a low of 72 and a high of 115.
The R11 handled fighting games with ease. I tested Tekken 7 on Ultra and it ran consistently at 58-59 FPS. I also decided to try A Total War Saga: Troy. This worked on ultra-settings without any problems even in the biggest battles. Zooming in and out was smooth and fast, and the game worked flawlessly.
Productivity: Free optional optical keyboard and mouse
The Aurora R11 is designed as a gaming computer, but you can definitely use it for work. Thanks to the abundant computing power and game-level graphics, this computer can also be used to edit photos or videos. R11 includes a free optical keyboard and mouse, but you must specify that you want these free options. Otherwise, just take the tower and the power cord.
Sound: 7.1 surround sound
The R11 has several options for audio sources, including ports for connecting a microphone, headphones, and surround speakers. It also has an optical audio port. You shouldn't have a problem finding an audio solution that fits your needs. The R11 doesn't include speakers in the box, but it has built-in 7.1-channel audio (with SPDIF port).
Network: Do you want Wi-Fi 5 or Wi-Fi 6?
The R11 includes a Dell Wireless DW1810 802.11ac wireless card (Wi-Fi, wireless LAN and Bluetooth 5.0). Add $ 20 to the price and you can upgrade to the Killer AX1650 (2×2) 802.11ax wireless card and get Bluetooth 5.1 and Wi-Fi 6 capabilities.
The model I tested had a basic Wi-Fi__33 adapter without Wi-Fi 6, but it still worked exceptionally well. The speed of the wife in my house is 400 Mbps maximum. According to Okla., the R11's Wi-Fi speed was 320 M bps.
As long as you have a good router, the R11 has a great connection for gaming. I often have problems with 5G networks in my home, but this adapter was stable and I was able to maintain a stable 5G connection. Of course, if you wish, you can also intercept and connect the Ethernet cable.
Cooling: Air cooling vs liquid cooling
R11 is air cooled or liquid cooled. I tested the air-cooled group. There is a fan at the front that draws air into the computer, so the top and sides have larger vents that help push air through the computer to cool the processors. The fans are strategically placed for optimal airflow, with a fan at the top to promote air circulation.
Final judgement
A powerful gaming computer with many options.
The Aurora R11 could replace its predecessor as the best gaming desktop of the year.