Microsoft Surface Laptop 4 Review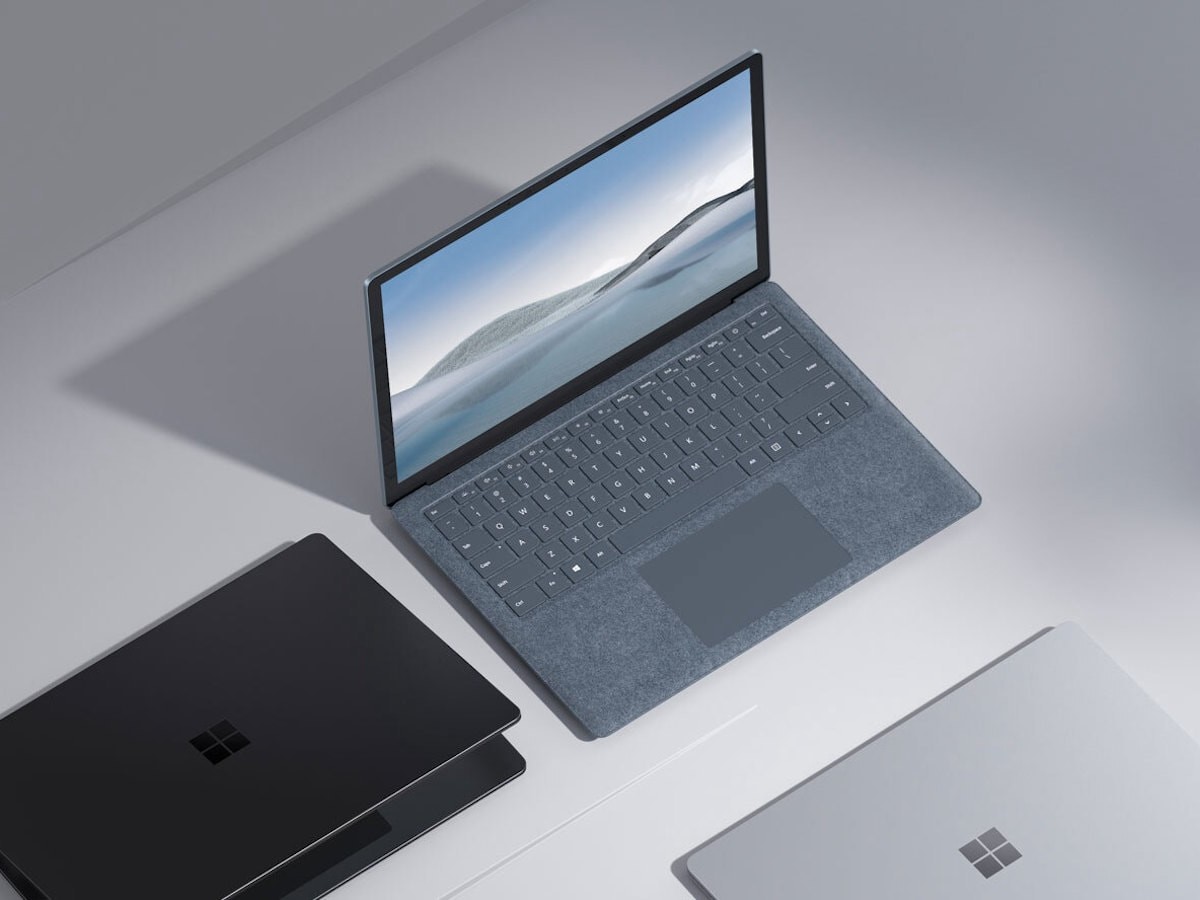 We bought a Microsoft Surface Laptop 4 for our reviewer to test. Read the full product review.
The Microsoft Surface Laptop 4 is a small but important step forward for this mid-range laptop, even if you wouldn't know it at a glance. Even Surface fans struggle to see the differences between the new model and its predecessor. The dimensions, weight and screen dimensions of the Laptop 4 are almost identical to the previous models.
Inside it's a different story. The Surface Laptop 4 has new AMD and Intel processor options that promise better performance, but also better battery life. That should help the Laptop 4 compete with Dell's XPS 13 and Lenovo's ThinkPad X1 line, but can it catch up with Apple's MacBook Air?
Design: If it's not broken, don't fix it
Surface Laptop 4 is nearly identical not only to the previous Surface Laptop 3, but also to the original Surface Laptop released in spring 2017. Still, Laptop 4 looks quite modern.
The high aspect ratio of the 3:2 screen defines the boxy shape of the notebook. This was the most distinguishing feature of the Surface Laptop when it debuted, and had the advantage of providing more usable screen space. Many companies have since copied Microsoft's decision – the Lenovo ThinkPad X1 Titanium Yoga is one such example.
Microsoft's minimalist aesthetic has also aged well. Clean, sharp lines and smooth, matte metal define the laptop, offering a luxurious yet professional look. It's easy to forget that the Surface Laptop 4, while not a budget laptop, undercuts the more luxurious ThinkPad and Dell XPS models.
I like the cloth interior, which is still a unique design decision, but is now optional. The fabric has a more inviting look and feel than the metal used by competitors. If you're worried about how it will last, don't be afraid. From experience I can assure you that the fabric holds up well. Yes, it will eventually show signs of wear, but it's no worse than a typical plastic or metal laptop interior.
Size is the only downside of the Surface Laptop 4. It has a 13.5-inch display with large bezels and is significantly larger than a typical 13.3-inch laptop with a 16:9 aspect ratio. The Laptop 4 takes up more space than you might expect in a bag or desk, and the overall volume is closer to a 14-inch laptop.
Display: Dense but mediocre pixels
The 13.5-inch Surface Laptop 4's screen has a 3:2 aspect ratio and a resolution of 2496 x 1664. That works out at 201 pixels per inch, which is less than Apple's 220 pixels per inch on Retina. screens, but I doubt you' will notice the difference. The screen looks crystal clear when using Word or watching a 1440p video.
Color rendering is stable, but not brilliant. The Surface Laptop 4 has a standard IPS panel and doesn't have any special features like Apple's True Tone or HDR support to make it stand out. The difference between the Surface Laptop 4 and its more expensive competitors is most apparent when watching movies or other high-quality streaming content. Video often looks bright or dull on a laptop 4.
Clarity is the problem. The maximum brightness of the Surface Laptop 4 on battery power is about 40% lower than when plugged in. Many laptops reduce the brightness of the battery, but it is more aggressive than usual. Even worse, the mirror display doesn't reduce reflections. Outdoor use is unsightly and even a bright, sunlit window will provide enough glare to distract.
The touchscreen is compatible with the Surface Pen. This isn't particularly useful as the Surface Laptop 4 is a laptop, but it's nice to have the option. I often use the touchscreen as an alternative to the touchpad in everyday use, such as when shopping online or watching YouTube.
Performance: AMD and Intel options stay true
I tested the base model with AMD's six-core Ryzen 5 4680U processor with nine AMD Radeon graphics cards. It also had 8 GB of RAM and a 256 GB SSD drive.
AMD's processor choice came in for criticism after the Laptop 4 was announced, as it isn't part of the latest Ryzen 5000 series lineup. I doubt most buyers would care though, as the Ryzen 5 4680U performs very well.
Productivity: a portable multitasking powerhouse
The 3: 2 aspect ratio not only dominates the design of the Surface Laptop 4, but also its functionality in everyday use. It offers 12% more screen real estate than the 13.3-inch 16: 9 aspect ratio. Most 13-inch laptops won't comfortably fit two documents next to each other, but this works well for the Laptop 4.
Microsoft combines a comfortable screen with a beautiful keyboard that provides clear and firm feedback. You'll find many key running and bottom features that are pleasantly tactile. However, there is a flaw: the keyboard has a lot of flexibility. You'll see it as you type, and fast typists will notice the bouncy quality of the typing experience.
Sound: going hard
Surface Laptop 4 has powerful speakers with excellent volume. There is a big difference between bass, minds and highs, thus avoiding the muddy sound typical of many laptops when the speaker volume approaches maximum. There's no subwoofer, so bass can sound flat, but the Laptop 4 gives a sense of depth without overwhelming the rest of the music you're listening to.
The speakers are Dolby Atoms certified and for once it counts. Movies and TV shows sound great. The dialogue is clear and sharp, but the explosions are impressive. Clear dialogue also leads to excellent performance in podcasts. Turning the volume up to maximum allows me to listen to a podcast as I move around the house, which is not normally possible on a laptop.
Network: Great Wi-Fi, but can we get LTE?
Surface Laptop 4 supports Wi-Fi 6 and Bluetooth 5.0. Wi-Fi performance was great during my tests. It can go above 800 Mbps near my Wi-Fi 6 router, which is true of almost any compatible laptop. Performance remained well within limits and reached 103 Mbps in a private office. This easily beats the Lenovo ThinkPad X1 Titanium Yoga, which only managed 40 Mbps in the same situation.
4G LTE mobile data is not available. That's a bit disappointing, as LTE is available on some Surface Pro and competing devices like the ThinkPad X1 Titanium Yoga and the HP Specter x360 13t. Optional LTE adapts to Surface Laptop 4 productivity priorities.
Camera: Great webcam with Windows Hello
Surface Laptop 4 has a 720p front camera with all the imperfections you'd expect from a laptop webcam. It looks good in a bright room, but even a moderately dark one results in grainy, soft videos. The camera does not get the correct exposure when the lighting is uneven.
IR camera is standard, so access to Windows Hello facial recognition is supported. This feature is easy to set up and very quick once set up. Works well in dim or uneven lighting.
Battery: okay, but don't believe the hype
Microsoft says the Surface Laptop 4 lasts up to 19 hours on one charge. A laptop could reach that number, but it's misleading. Battery life in the real world is far less than Microsoft's announcements would have you believe.
Still, the Surface Laptop 4's battery life is good for this class. I got 7-9 hours of battery life when I used the Surface Laptop 4 for web browsing, typing, and basic photo editing. It lasts longer than the Lenovo ThinkPad X1 Titanium Yoga 2-in-1, which is comparable in size and performance.
However, you can drain the battery faster. I used the laptop for an hour of heavier image manipulation in GIMP and chewed on about 20 percent of the battery. This is the disadvantage of the laptop's fast hexa-core processor.
Software: keep it in stock
Surface Laptop 4 comes with Windows 10 Home installed. There isn't much more to say about the software, which is good news for most people. The default Windows installation on Laptop 4 is free of bloatware.
Final judgement
One of the best Windows laptops you can get.
The design is attractive yet functional and offers excellent performance for the price. The Surface Laptop 4 can't beat Apple's rival Mac Books, but it's a great choice if you want to stick with Windows.