Flexi spot Theodore Standing Desk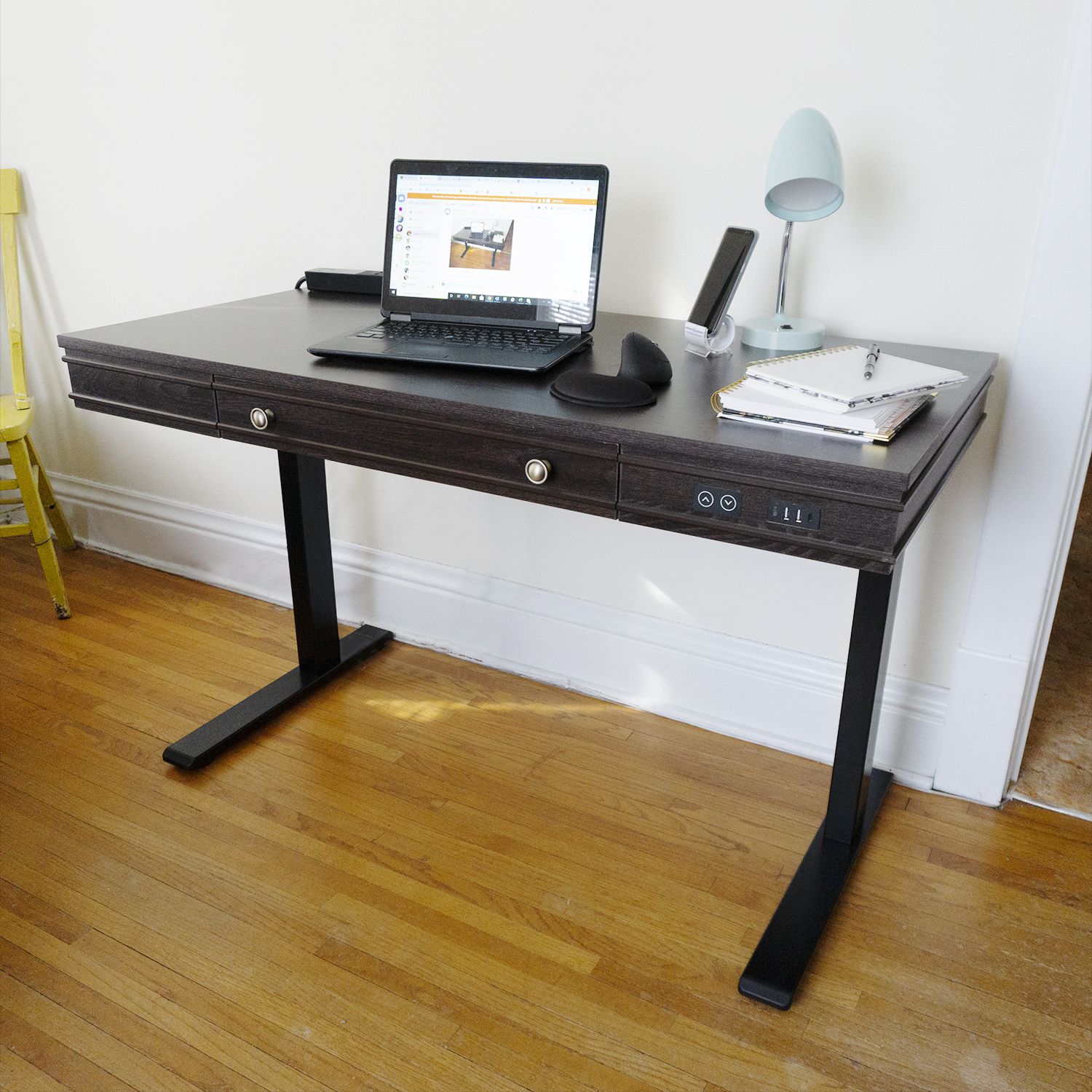 Flexi spot has provided us with a review unit that one of our authors can test. Read the full review.
Since I still work from home, I use the built-in desk in my bedroom. I sat hunched over all day and felt bad in my back when I disconnected from my work VPN. Worse still with this agency, I couldn't fit in. I needed something that would not only fit my centennial home style, but also allow me to move and stretch my back when needed.
Take a look at the Flexi spot Theodore standing desk. Flexi spot was the answer to everything I needed in my workspace: elegant; modern; and fully adjustable.
Design: mix old and new
The design and aesthetics of this standing desk gave me a sense of accomplishment when I installed it. First things first: it's really heavy, weighing around 100lbs if the packaging is to be believed. I can't recommend handling the box alone, and if I had tried it myself, I would probably have passed out carrying it up two flights of stairs.
The wood veneer immediately caught my eye. Named after the famous Theodore Roosevelt, the table has a walnut veneer that creates a classic look. This American design and rustic single drawer knobs give it a timeless look that can complement any home. Even better were the two USB ports built right next to the buttons for raising and lowering the table?
Performance and use: adjustable and comfortable
After setting the table, I sat down and felt like a queen in my castle. Even at a minimum, the desk provided an ergonomic feel that I desperately need in my home office. The two table legs are located far enough back and the table is wide so I didn't have to worry about accidentally kicking the legs. However, I live in a house with shedding cats and have noticed the hair sticking to and sticking out of the metal.
It wasn't the only place I noticed minor cosmetic problems. Since the surface is veneered, whenever I left a stain on the table, whether for general PC use or if I accidentally dropped a tortilla, it showed. Since it's a veneer, I can clean it just as easily. If you want a desk that doesn't look used, this isn't the desk for you, but if you don't mind gently cleaning your desk every now and then for aesthetic reasons, then it's perfect for your home office needs.
The Theodore Standing Desk also proved to be the perfect place to store my Jabra Talk 45 headphones and Microsoft RVF Arc Touch Mouse so I don't lose them around the house. The desk drawer is about two inches deep, so you can easily store important documents too. And because the desk space is so large, I could easily fit two 17-inch laptops on it and have extra space for my cell phone, a diary and a desk lamp with free space.
Controls: Tap the button
When I got tired of sitting down, usually with the cat on my lap, I could easily convert it to a standing desk with two buttons that raise and lower the desk with motorized controls. While it was a bit loud, the noise doesn't seem out of place for the standing desk models on the market. I stopped the table when it stood at 5 feet 8 inches, but the table can go up to nearly 50 inches for people who need the extra height.
However, one of my biggest complaints about the controls is that sometimes the buttons didn't register when I first pressed them. Not a big deal as I assume the table wakes up from some sort of sleep mode, but sometimes you need to double press a button to raise or lower it. Personally, that wouldn't stop me from investing in this because when it goes, it's smooth motion, giving you plenty of time to adjust cables or move things around.
Flexi Spot Theodore vs. Rain design level 2
Let's say, maybe a standing desk that you're going to put into a standing desk converter, like the Rain Design level 2 laptop stand. At around $51, it seems like a good idea to pick a budget option here.
However, the only feature you get with a standing desktop converter is just that: a converter. And from personal experience, when it's folded down, it's usually still thick enough that it's not flush with the desk, which can cause ergonomic wrist issues, especially if you're using an ergonomic laptop or keyboard.
While the Rain Design stand may seem like the most optimal choice at first, as it allows you to maintain your current home layout, the Flexi spot Theodore has full height adjustment that Rain Design can't compete with, especially since Rain is designed for laptops rather than desktops. The Theodore Standing Desk takes this into account with a weight limit of 99 pounds. If you prefer to work with your existing setups, Rain Design may be a better fit for your space. However, if you want complete control, Flexi Spot is the best option for your work-from-home needs.
Last judgement
Perfect for working from home.
With full height adjustment and free USB ports, the Flex spot Theodore standing desk is perfect for any home that wants to keep a classic look while getting a major modern update. The small glove compartment makes it the perfect desk for any home office.