Best blogging apps for your smartphone (2022)
Today, technology knows no boundaries and Android as an operating system is growing rapidly.
It is now available for many smartphones and tablets. Likewise, Google Play and App Store have thousands of apps for productivity, blogs, VPNs, games, file managers, etc.
Gone are the days when you needed a computer or laptop to do your blogging tasks. Instead, you can blog on the go and perform all related activities from anywhere using your mobile phone. All this is possible thanks to the many innovations in progress. For example, mobile applications have been developed that allow you to manage your blogs on smartphones.
Blogging is about expressing yourself and sharing your experiences and knowledge on the Internet. It doesn't matter if you blogger about fashion, lifestyle or business.
If you are involved in this digital information age via blogging, you know how difficult it is to keep up with your posts. If you're a dedicated blogger, it doesn't matter if you're too busy or too tired. You have to do your job and be consistent.
You need to make sure your posts are in the correct format and that you are tracking all views of your blog. In times like these, there is no better option than using mobile blogging apps on your phone.
The best blogging apps for smartphones
With all these options, you have a lot of apps to choose from. It will take some time to decide which apps are best for you. However, we'll give you some names that we think you should try.
Some apps are useless and probably irreplaceable for blogging, while others can change your life in a positive way. Some mobile apps allow you to stay active in the blogosphere, regardless of your location.
Don't worry if your device is Android or iOS, we've covered both of the best blogging apps for Android, iOS, iPad, iPhone, and more.
WordPress
You can quickly write, edit and publish new blog posts. WordPress also allows you to track site stats, visitor behavior and site usage, quickly create a new post, edit existing posts, and send media. It is the best solution for people who don't want to rely on computers and want to access their websites via mobile phones / cards. When you travel, you don't need to carry a laptop and you can do your work efficiently with your mobile.
With the latest updates, the bugs have been fixed and it has become more stable. This app is like a live WP dashboard that lets you do whatever you want. You can publish posts directly from your Android or iOS device, save your blog posts as projects, and respond to comments your readers add to your posts.
Check your blog impressions to find out how many people have visited your blog and which countries attract the most readers. Then manage and create your WordPress blog or website right from your Android device. WordPress for Android now offers the ability to publish your content without a computer.
Hoot Suite
The blog has taken on a whole new meaning, especially in recent years. Many people view posting on Facebook, Twitter, LinkedIn, and other social media sites as part of the microblogging world.
If you are a mini content creator, you can manage your various social networking sites with HootSuite. You have full access to your accounts to control when and how to share your content. Also, you can create and schedule your posts on different websites for different time periods. Track your posts, likes, comments, and track and trace stats regardless of whether you are home or not.
Tumblr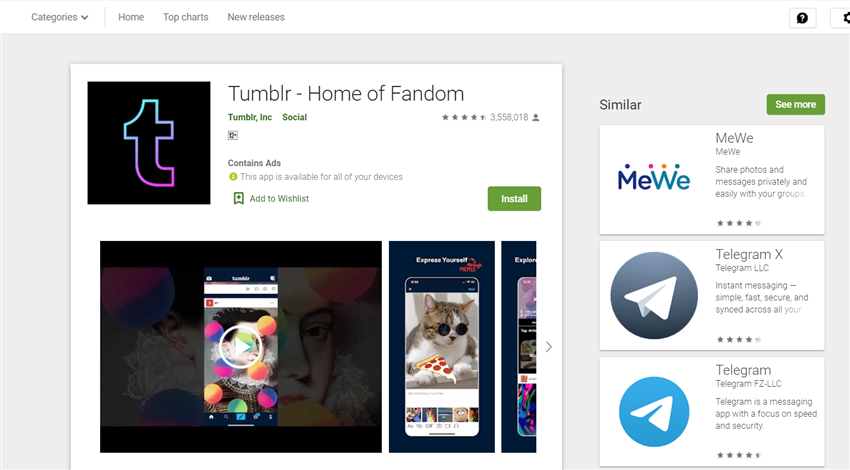 Tumblr makes blogging a pleasant experience. Tumblr is also a place to express yourself, find yourself and even connect with the things you love. Whether it's fandom or philosophy, you can connect with people who share your interests on Tumblr. Submit photos, videos, audios, links, quotes or articles; you have a lot to discover. Create your GIFs if you want and cover them with stickers and text as you like.
You can customize your Tumblr yourself by adding cool colors, fonts and layouts. Follow the topics that interest you and also discover things you didn't even know existed. Plus, you can join the community by sharing your experiences and learning ways to make your message more engaging.
Most people prefer blogging on Tumblr, which is called microblogging, because it's cheaper to post short quotes, photos, or videos. You can post content, schedule a message, view and reply to messages. You can also manage multiple blogs at the same time. Posts you post on Tumblr look very different from posts on other platforms.
blogger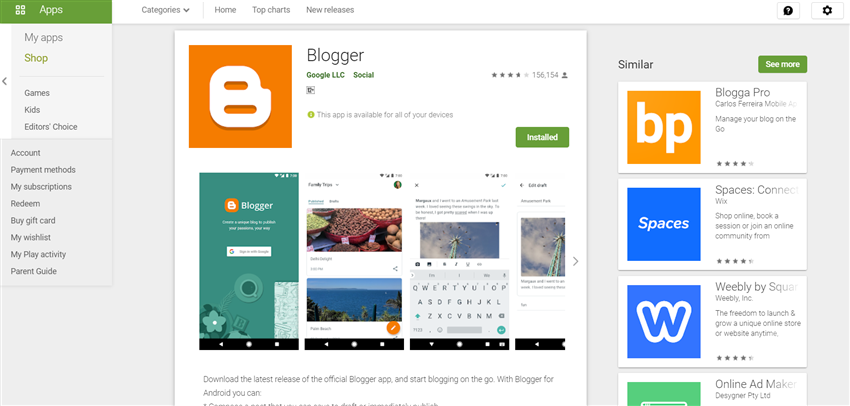 Ever since Google developed Blogger, it has made the login process a lot more manageable. It is no longer necessary to create a unique username and password. Instead, all you need is your Google credentials and you can log in and start blogging.
Blogger has many features that allow you to publish new posts early and add images to blog posts and tags. If you want, you can even add a position to each of your posts.
If you have multiple blogs, you can switch between them using the Blogger app. Blogger is another excellent blogging app among the best Android apps of 2021 for Blogspot users. Manage your Blogspot blog posts, edit existing posts, publish new posts and view a list of previously published and draft posts. It is an excellent application for Blogspot users who need to keep track of their blog stats and performance.
Evernote
Evernote is another great blogging app available for Android and iOS platforms. Evernote gives you the power to take handwritten notes, write notes in a clean and tidy workspace, collect articles online, and access your notes on any device. Apart from this, there are other premium features available for purchase as well.
You can take a photo, record a video or create a list, they are all synchronized with your devices and you can easily access them from your phone or browser from your computer. Plus, Evernote helps you save ideas for your blog posts, take notes, and create to-do lists.
When planning a blog, it is important to know which categories you will post in. Usually you need to open WordPress and write a post draft, but sometimes it's easier not to log in and scroll through the posts. Evernote also works offline, so you don't have to wait for an internet connection.
BlogTouch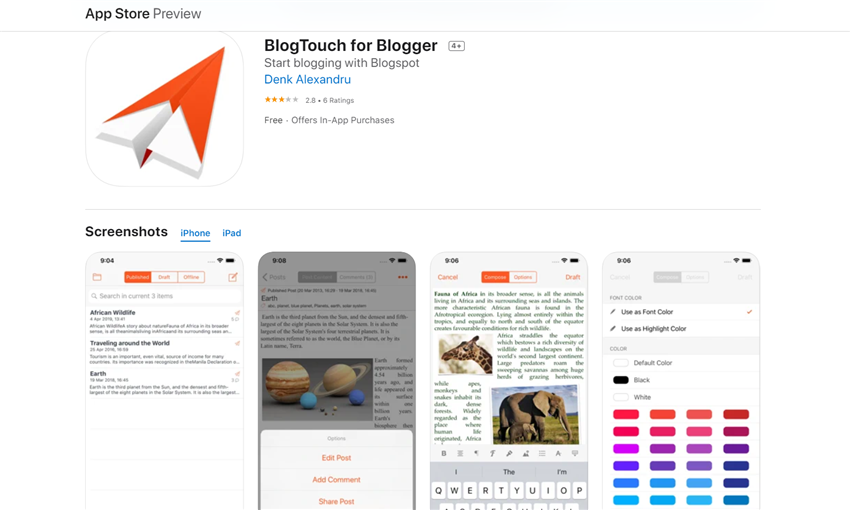 BlogTouch is a powerful and easy-to-use blog editor for all WordPress bloggers. This application performs all the functions to manage the significant number of blogs on your device. These features allow you to edit and delete all posts, pages and comments the same way you manage everything in the WP dashboard.
The BlogTouch app for iPad / mobile makes your tasks a lot easier if you are a frequent traveler. The app also allows you to work in privacy to set an app password and protect your data from loss. So, if you are looking for a blogging app with great features and ease of use, BlogTouch is for you.
BlogTouch includes many valuable features such as easy photo and video upload, emoji support, scheduled posting, social networking site integration, sharing functionality, geotagging, local preview, password protection, and more. This makes BlogTouch a complete blogging app for iDevices.
Squarespace Blog
Squarespace isn't a very popular application, but it's a website builder platform that allows users to create beautiful and stylish websites, even for free. This app gives you full access to edit and manage your Squarespace content from multiple accounts. Create and edit your posts using the company's layout engine.
It has features that allow you to format text, add photos, and create links even when you're busy. You can also follow the comment section and quickly respond to your readers. The application also offers an option where you can mark a comment as spam.