14 Iconic Eye Makeup Looks from EUPHORIA Season Two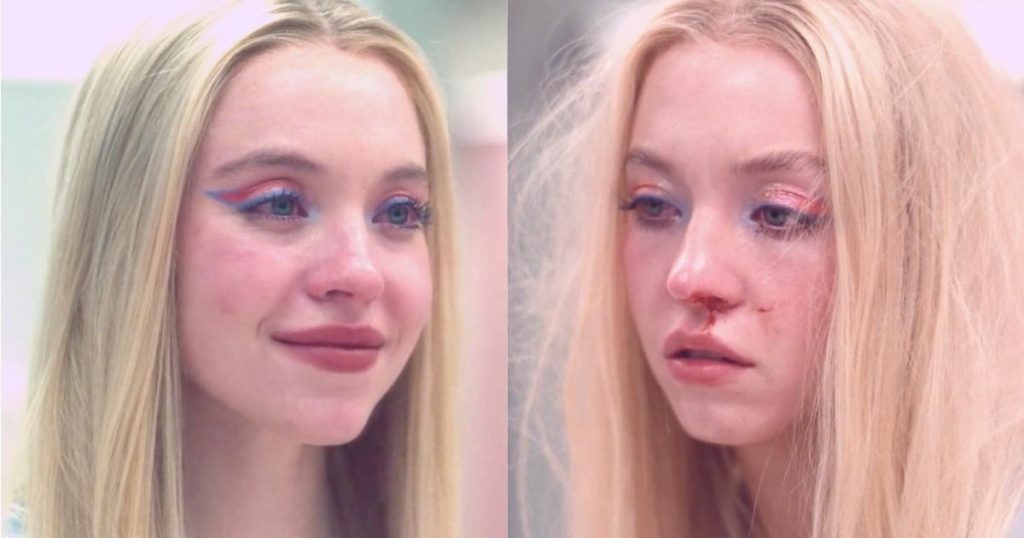 The most watched HBO series since Game of Thrones, the American teen drama Euphoria revolves around drugs, trauma, sex, gender identity, family, friendship and social media, among other things. Zendaya plays Rue, a troubled teenager who struggles with drug addiction and her relationship with transgender Jules (Hunter Schafer). The series has been recognized not only for its recognizable plot lines, but also for its melodramatic cinematography, music, fashion and make-up. Unsurprisingly, Euphoria has a huge Gen Z following, mainly due to the beauty of the cast.
1. Maddy's exaggerated lining
In many scenes, Maddy (Alexa Demies) wears black eyeliner that extends outwards and sometimes inwards. The dramatic eye shape created with liner is often contrasted with shimmery lid cream shades that add to the theatrical feel. Her inverted cat eye with clumpy lower lashes on New Year's Eve is phenomenal, especially with the fitted black dress.
2. Maddy's twin wings
Maddy shows off her sharp and luscious twin wings in the bathroom scene. Cassie (Sydney Sweeney) also has twin wings, but hers are much more rounded and blended in contrast to Maddy's sharper look. Makeup artists on the show used Inglot pot gel liner, Bdellium eyeliner brush and sharp Q-tips, but amateurs can use liquid eyeliner to recreate the liner look. The results are not as strong, but the lining is easier to check when drawing the wings.
3. Cassie's rhinestone wing
Arguably the most iconic makeup look of the season, Cassie's rhinestone wing in NYC can be achieved using tiny Get Stunned beads, eyelash glue and an applicator. The rhinestone wing has a soft pink eyeshadow and a shimmery highlight in the inner corners of the eyes, making this look pretty minimal compared to Maddy's dramatic rhinestone wing during the flashback scene in Lex's (Maude Paotow) play.
4. Cassie's Blue Wing
Cassie's heavenly wing is undoubtedly another Caddy (Cassie x Maddy) look that will soon lead to a beauty trend. It could be based on one of Maddy's cheerleading looks from season one. Before she meets Maddy, Cassie's heavenly wing stands out against her peach eyeshadow. After the showdown, Cassie's blue wing was blended into peach eyeshadow and she looks more glossy, while her lower lash line was swept away to look sweaty.
5. Cassie's white-winged ship
The white lining is one of Donni Davy's tricks that will make your eyes pop. Davy told her followers on IG that she initially wanted to wear light blue, but realized that white was more shocking and the look matched Cassie's desire to get Nate's (Jacob Elodia) attention. Note that Maddy also has a white lining after her breakup with mentor Samantha (Minka Kelly).
5. Jules dark inner corner liner
In a special episode about Jules before the second season, we learn that Jules is considering stopping her HRT. Jules' evolving relationship with femininity is reflected in her shorter hair and less feminine makeup in the second season. Its double-edged lining on the inner corners for NYE has a punk rock vibe and is inspired by a mermaid's bag (a spiky dark shell that holds shark eggs), as Davy explained on Instagram.
6. Jules Messy Eyeshadow
Jules is an aspiring stylist and her creative makeup ideas reflect that. Although subtle, Jules uses messy eyeshadow at least twice: one green and one blue. Pictorial strokes and places look more like an abstract painting than a trick.
7. Jules' triple wings
Jules highlights his eyes with triple wings (or "whiskers" and "horns" according to Davy) at least three times: once as white on the outer corner of the upper lid, once as white on the lower lid, and once as white once with a white fold at the tip of the black eye.
8. Jules' mini accents
Instead of the colorful makeup of the first season, Jules uses mini accents to express herself in the second season. In one scene where she and Eliot (Dominic Fike) have an intimate conversation, Jules wears a small cross in the inner corner of her eye that mimics Eliot's eyelid tattoo.
9. Jules Graphic Lining
In the Season 2 finale, both Jules and Maddy wear a green graphic liner, but in very different shapes. Jules' liner is glossy and looks like a hollow spot around the eye, while Maddy shines with her signature double-wing shimmery white eyeshadow.
10. Lexi's Pointy Liner
Davy said Lex's makeup is "daring and shy" this season. The pointed appearance reflects this duality with its clean shape and muted colors. In another scene where Lexi is the prima donna of her own act, we see a glamorous version of the spiky lock, but only as a taster.
11. The Lower Lash Line with Lexi Beads
A flashback during Lex's game shows Maddy rubbing against Lex's lips. Here Lexi wears a long blue eyeliner with wings and a beaded lower lash line reminiscent of Cassie's makeup for Maddy's birthday. Their "glittering teardrop" eye makeup almost seems to foreshadow the tragic scenes to come.
12. Minty eyeshadow from Kat
Kat (Barbie Ferreira) is less visible in the second season, but her makeup is still impressive. Her appearance is usually less complicated than that of other girls and therefore easier to achieve. During her breakup with Ethan (Austin Abrams), she wears a mint green eyeshadow with a subtle hint of refreshing, bright and easy to recreate chartreuse.
13. Kat's Sparkling Blue Liner
Kat and Maddy go on Maddy's birthday together. While Maddy shows off a big glittery cat eye with blue powder in the inner corners, Kat doubles her eyelid with glittery black and blue liners.
14. The Fold of Kat's Plum Cut
After Cassie and Maddy's showdown in the Season 2 finale, Kat joins them in the bathroom. She wears a plum-cut vampire scrunchie similar to the look Maddy previously wore on the bowling scene.