Kurhotel Skodsborg hotel in Copenhagen takes a holistic approach to meetings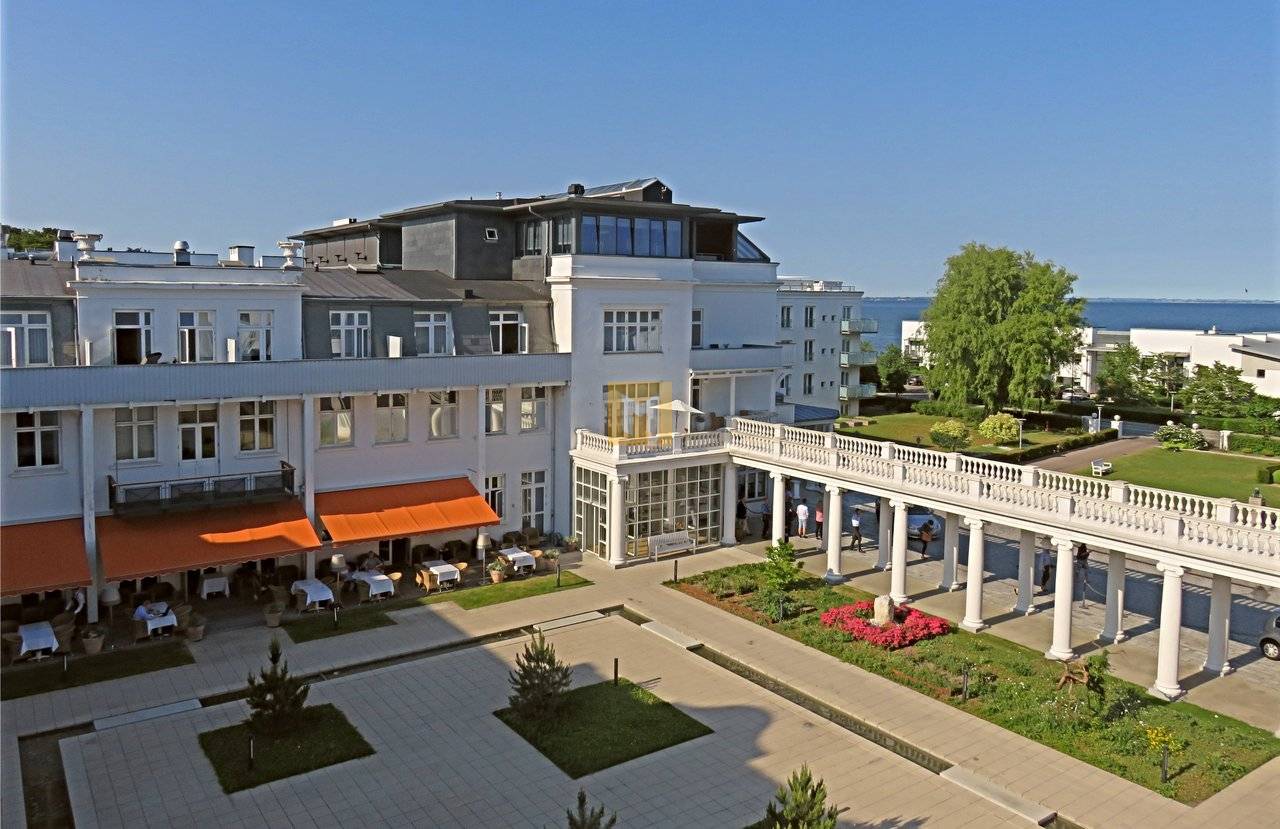 With the matador's touch of the towel, "GusMester" Matthias at the Kurhotel Skodsborg directs a warm, fragrant stream of air onto our sweaty limbs within the confines of the sauna cabin.
This form of aromatherapy is followed by a dive into the cold water of the Oresund strait between Denmark and Sweden, which pushes endorphins into overdrive and provides an almost immediate feeling of euphoria and renewed vitality.
This is "SaunaGus", which is just one of the services of Denmark's leading spa hotel and part of a holistic approach to their range of events and meetings.
Incorporating wellness into the meeting and event schedule is an area that is receiving increasing attention from companies looking to improve their culture, creativity and employee performance. It is eagerly discussed as "new technology" and "AI" and together with them as one of the most important future trends in shaping the industry.
Kurhotel Skodsborg's combination of Scandinavian design, tradition, location and principles of healthy living is particularly suitable for meeting planners and clients who want to motivate, stimulate and stimulate physical and mental well-being.
Danes are often declared the happiest people on earth. So it comes as no surprise that Kurhotel Skodsborg, located only 20 minutes from the center of Copenhagen, has combined the age-old principles of exercise, nutrition, nature, light, air and general well-being with 23 meeting and event spaces.
The hotel is located between the ocean and the forest ("Dyrehaven" – a former royal deer hunting area that became a UNESCO World Heritage Site in 2015), which allows guests to swim, cycle, run and walk or just enjoy from the two upper floors. Hotel; one used for yoga above the Spa & Fitness Center and the other at the top of the hotel, both ideal spaces for cocktails and outdoor events.
The hotel's stunning white facade and colonnades open into a building complex with a strong historical narrative. From 1852 it was the summer residence of King Frederik VII, before Dr. Carl Ottosen founded the sanatorium in 1898, whose ethics and philosophy have been at the heart of the hotel to this day. All these elements together create truly unique event spaces.
Adjacent to the main hotel building is the "Villa Rex", a neoclassical building with regal old-world charm where the king held parties and state meetings. The main room of the villa can accommodate up to 70 participants and is connected to a circular room called "Sala del Re". Restored to its 19th century glory, it is popular for food and wine tasting workshops for around 30-40 participants, mostly with 'Kitchen Rex' on the steps ready to take care of everything; the open kitchen can accommodate 16 participants as a cooking school.
Cooking workshop
If there's one thing not to miss, it's a cooking and fitness workshop with Thomas Rode, the hotel's "functional lifestyle mentor." The Michelin-starred chef and health guru (innovator and observer of the paleo diet) embodies the hotel's modern focus on meetings, fitness and nutrition. Following in the footsteps of his weekly high-profile leaders who harness Rode's techniques, we walk the icy oceans with 12kg Kettle Bell weights and SUP (Stand-up Paddleboard).
The water resistance against the bubbles mixed with swimming and push-ups while balancing on the boards will work up a good appetite. Then, with our help, Thomas prepares a hearty, healthy, paleo-oriented meal and gains important insights on how to maintain this lifestyle after our visit. It's an incentive that "builds teamwork, encourages a competitive edge and teaches healthy life tips," he claims.
Spa and gym
Although the spa and fitness center's 120+ hour weekly schedule is just a key fob and hallway away from the main hotel areas, attendees can find plenty of luxury, relaxation and pleasure in the spacious bedrooms. As they wish, inside the Michelin-starred 'Restaurant by Krou' is a stylish yet comfortable lounge with heavy coffee tables that allow you to sink further into the velvet sofas. Above and behind the lounge, bar and lobby are several state-of-the-art meeting rooms that can be configured and combined for various meetings and events.
Among the awards the hotel received last year, including "one of the top 7 spas in the world in 2018" by Tatler Magazine Spa Guide and first place in the annual Danish Pastry Championships, the development of the hotel's MICE efforts not by unnoticed. Not up to date. Recently received the "Best Low Cost Meeting" award from Danish Events & Meetings 2018; this is related to the "Mai's Monday Meetings" (MMM) concept, designed by Mai Kappenberger, CEO of Kurhotel Skodsborg. Every first Monday of the month, MMM brings a select group of professional women to experience the latest exercise classes, followed by a healthy breakfast and a lecture on a current topic by a special guest.
Dr. Carl Ottosen said more than a century ago, "Man has more stamina when work is replaced by rest," and his quote is still relevant today. Millennials are much more health and wellness conscious, and meeting and event planners are taking this growing trend into account.