5 Best Sirius XM Portable Satellite Radios of 2022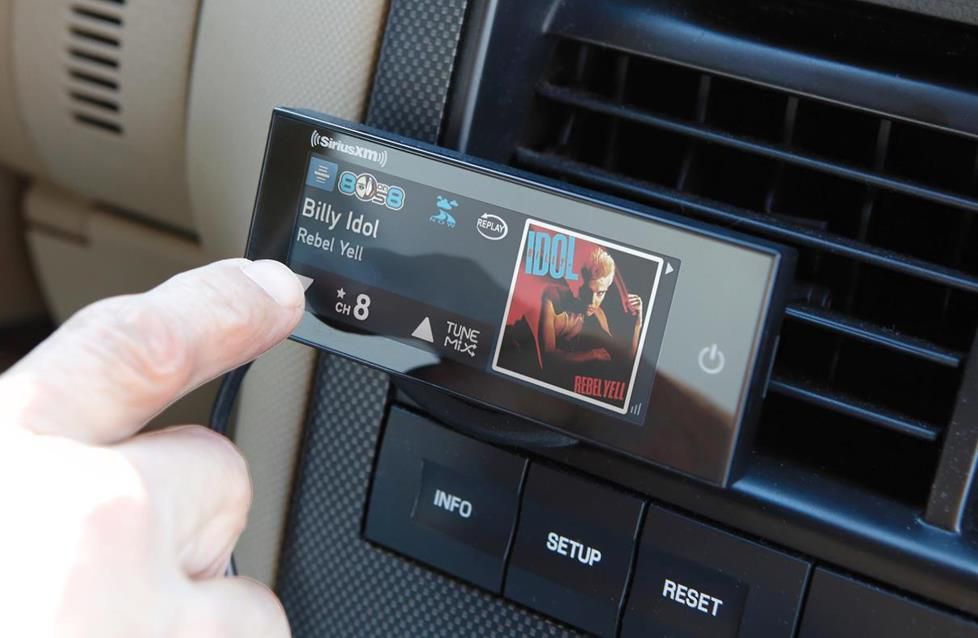 If you're one of those stubborn users who refuses to give up satellite radio, the best portable Sirius XM satellite radios are the only way to access their unique program library.
Fortunately, these specialized devices are relatively inexpensive, and models like the XEZ1H1 Onyx offer remarkably affordable satellite radio hotspots.
If you want to learn more about the pros and cons of satellite radio, read our frequently asked questions before checking out our selection of the best portable Sirius XM satellite radios.
Best Overall: Sirius XM SXPL1V1 Onyx plus Satellite Radio
Onyx EZ's big brother Sirius XM SXPL1V1 is a versatile, vehicle-ready player. The 3.4-ounce 4.5″ (W) x 2.4″ (H) x 0.7″ (D) package packs plenty of features to please even the most demanding Sirius XM listener. Tune Start and Tune Mix are two features that make the price point worth, the former allows subscribers to start a song from the beginning on a new station, while the latter allows you to create a music station based on Onyx EZ, which offers pause, rewind and playback of your favorite channels for up to 30 minutes.
Installation in the vehicle is very easy with the included car kit (adapter, antenna, etc.), which allows you to change from one car to another with a single order. The color screen shows the album cover art, channel logos and images to add visual flair. Onyx Plus offers "Sirius XM Xtra", which includes several music and entertainment channels in addition to Sirius XM Latino. And getting to the big game is no problem with Sports Ticker. There are also some standard features, such as one-touch access to traffic and weather conditions, and one-touch return to the previous channel.
Best Display: Sirius XM Commander Touch
Commander Touch offers a beautiful color capacitive touch screen with a 480 x 180 pixel color display of album art, artist name, track name, channel logos and program information. Like more expensive portable satellite radios, the Touch offers pause, rewind and play for up to 60 minutes of listening pleasure. The Tune Mix function creates a mix of songs from the subscriber's favorite stations with album art and channel logos. Songs are automatically paused when there is a break of up to 30 minutes while listening in the car, and then they are played from where the radio left off. Sirius XM offers software updates for the Commander Touch via USB flash drive, offering new features and capabilities as they become available.
At only 3.88 ounces and 4.1″ (W) x 1.69″ (H) x 0.48″ (D), the Touch is middle of the road compared to other portable satellite radio competitors. It's child's play and portability. It's easy to fit multiple car accessories with one subscription.
Best Budget: Sirius XM SSV7V1 Stratus 7
The Sirius XM SSV7V1 Stratus 7 is the simplest of satellite radios. Button navigation makes it easy to browse channels, and you can save up to 10 of your favorite channels for one-touch access. Multi-vehicle listening requires the purchase of several accessory kits, but extends the life and use of the Stratus 7. The overall design is quite simple. It doesn't have the "wow" factor in its looks, but it does the job. Tune Scan, a function that allows you to start a song from the beginning on a new channel, is not available. The same goes for Tune Star, which allows listeners to create their own music channel by combining their favorite music channels. Although some features may be missing, the Stratus 7 offers a clear signal and easy installation. While we'd love to see a remote control in the future, it's still a cool thing.
Best app: Sirius XM smartphone app
True portability with satellite radio can be found through an app for Android, BlackBerry and iPhone smartphones. What you lose in a specific radio system, you gain in total portability. Streaming channels include all the traditional subscription options (and some online channels too). The smartphone app offers "on demand" access to SiriusXM's catalog of content, so you can listen to it whenever you want, not necessarily when it's live. Offline recording of talk radio and entertainment programs allows listening offline or outside of mobile phone signal.
You can also share your music with new social features and get personalized recommendations for discovering new content.
Best for Sports Fans: Sirius XM
Car-based satellite systems are great for multipurpose lifestyles, and all the plug-and-play options on this list give you tons of features. But if you're a sports fan, you need 24/7 access to Sirius XM sports stations whether you're in your car or not. This is where TTR2 Sound Station comes in.
The 5.2 x 10.8 x 6″ standalone radio features a Sirius XM receiver and gives you access to all the music, voice radio and sports stations you need: MLB, Nasar, NFL and more with your Sirius XM subscription. It's great that you can also use it as a home speaker, which is what sets it apart from Sirius' car models. They've also added alarm features so you can wake up to sports updates or news programs instead of a normal alarm (you can even snooze it). It's a great speaker with good volume and looks great in any room.
Final verdict
If you're looking for a solid base station for Sirius XM satellite radio, the SXPL1V1 Onyx Plus (see on Amazon) has you covered. However, if you need a slightly cheaper option, Stratus 7 (see on Amazon) is your best bet.
What to Look for in a Sirius XM Portable Satellite Radio
Installation
As with all electronics, ease of installation should be considered before purchasing a satellite radio. While most are simple, some can be a little more complicated. Many radios come with a vehicle kit (including an adapter, antenna, and more) that allows you to switch between cars in a single order. You can also search YouTube for installation instructions if you get stuck.
Screen
Not all screens are the same. Some radios have a color touchscreen, while others have a more basic black and white screen with physical buttons. Some show information such as the station, song name and even album art, while others are much simpler.
Dimension
Portable satellite radios, of course, need to be small enough in size and weight to be comfortably portable. Options range in weight from 4 ounces and up and sizes as small as a checkbook to a large clock radio. Choose a size that is practical, taking into account how much you have with you.