7 Best TVs for Gaming in 2022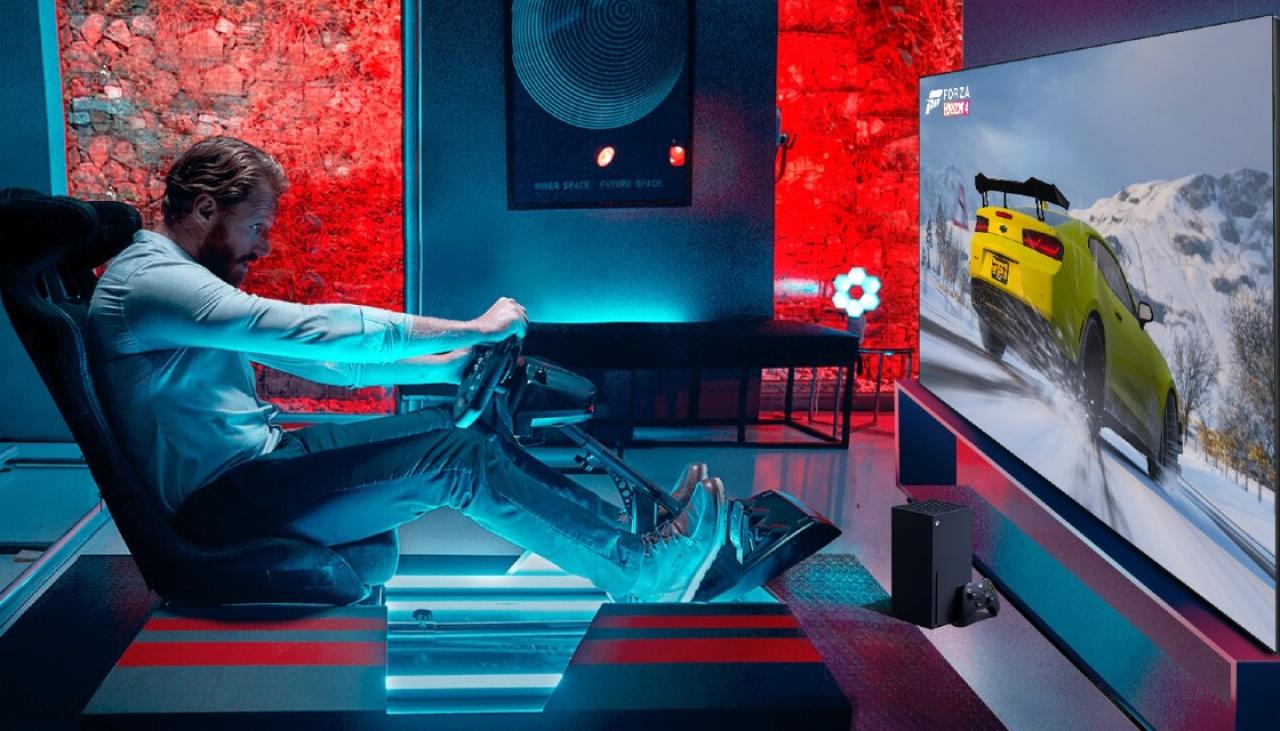 Game TVs are becoming more common as home consoles develop. With features such as native 4K resolution, high refresh rates and more graphically demanding games, console gamers need TVs that meet the demands of current and next-generation games. Sony and LG offer OLED TVs that offer superior color, contrast, and detail so you can enjoy every setting, character, and object in your game, but these models tend to be very expensive. Samsung's new Neo QLED TVs have a Game View feature that lets you monitor things like HDR settings, wireless headset and controller settings, and even frame rate in real time so you can catch problems before they happen. Can ruin your gaming session. A native 4K resolution TV is essential to get the most out of your console and games. Fortunately, 4K TVs have become much more affordable, so even if you're on a tight budget, you can get a great 4K TV without having to dig into your savings.
The best package: Samsung QN55QN85AAFXZA 55-inch 4K Neo QLED TV
With the all-new Game View mode, you can control almost every aspect of your experience in real-time. You can check and adjust aspect ratio, HDR settings, FPS and input lag on the fly. Each of the four HDMI inputs also supports AMD Free Sync variable refresh rate technology to synchronize the console and TV for smoother video playback. The screen is treated with an anti-glare and anti-reflection coating that offers wide viewing angles even in difficult ambient or ambient lighting conditions. Built-in green sensors monitor ambient lighting to automatically adjust picture settings for the best viewing experience in almost any environment.
Ideal for smaller rooms: 43-inch Samsung QN43Q60AAFXZA 4K QLED TV
The Q60A is an updated version of Samsung's T-series TVs, and the 43-inch model is perfect for smaller gaming rooms. This TV uses the same dual LED panel as the T series, simultaneously creating warm and cool colors for a wider color gamut and better detail in both native 4K resolution and upscaling. Built-in speakers use sound to track objects and transducers stimulate dialogue in noisy environments, so you get clear, immersive sound without additional equipment. Like its Neo QLED cousins, the Q60A features an all-new Game View and Game Bar feature that lets you control settings like input lag, HDR, and frame rate in real time. You can also use the TV as a remote access monitor for your computer, making it ideal for working and gaming from the comfort of your home. The included stand legs allow for multiple positions, so this TV is easy to place on almost any surface. But when floor and shelf space is limited, you can always mount the Q60A on a wall to increase space. If you have a Samsung mobile device, you can use the Multi-View function to stream multiple video sources at the same time, but you can also use the touch-view function only for Samsung products. Just bring your smartphone or tablet near the TV to instantly share your screen.
Best Curved TV: Samsung UN55TU8300FXZA 55-Inch Curved 4K TV
Although curved TVs have not become as popular as manufacturers had hoped, Samsung still offers a model for customers who prefer them to flat screens. The TU8300 features an updated design with a clean, modern aesthetic to complement any living room or play area. It also has integrated cable management channels on the back of the case to keep HDMI cables and power cords organized and tangle-free. The curved screen is designed to reduce glare from windows and skylights while offering wide viewing angles for a better gaming or movie experience. The completely new screen offers exceptional 4K UHD resolution and HDR support, which improves contrast, detail and color volume. PC gamers will love that this TV can connect wirelessly to your computer for remote access to games, programs and websites right from your couch. Perfect for when you want to do a few rounds of Within Us before bed but don't want to sit in an office chair.
Best OLED: LG OLED77GXPUA 77-inch 4K OLED TV
If you want the best image quality, LG's GX series is the only option. This model is LG's latest OLED TV, which uses improved technology to produce over a billion colors, plus excellent 4K UHD resolution and HDR support. Each pixel is individually illuminated, so you can see the deepest blacks and the brightest whites, enhancing contrast and lifelike images. The third-generation a9 processor not only offers the features you'd expect from a smart TV, it uses AI to enhance non-4K content for clarity and detail, along with NVidia G-Sync and AMD Free Sync. Technology for a gaming experience virtually free of delays and frustrations.
Best for PS5: 65-inch Sony A90J Brava XR OLED 4K TV
If you've been lucky enough to get your hands on the new PlayStation 5, you may want to upgrade your gaming TV, and Sony's Brava XR is what you want. This TV uses updated OLED technology and an improved neural network processor to create stunning native and enhanced 4K resolution, with micro-dimming areas to bring color and detail to life. The inputs support variable refresh rate technology for smoother video playback and HDMI ARC connections for installing home audio equipment without a stereo receiver.
The OLED screen has a 120Hz refresh rate with virtually no motion blur and has 11 different picture modes to get the most out of your games and streaming content. The TV uses Acoustic Surface Audio + technology and a self-calibrating microphone to turn the entire screen into a speaker for near-perfect audio and video synchronization, adapting the sound to almost any room. For online gaming, you can connect to the internet via dual-band Wi-Fi or Ethernet for high-speed connectivity. The rear panel of the TV has built-in and hidden cable management channels to keep your play space neat and tidy, and is made with up to 40% recycled plastic, making your home a little greener.
Ideal for Xbox Series X: Samsung QN655QN90AAFXZA Neo QLED 65-inch 4K TV
Customers who have managed to get their hands on the new Xbox Series X will also want to pick up a Samsung QN90A TV to complete the upgrade to their gaming space. Like its little brother, the QN85A, it uses a neural network-enhanced processor and Samsung's new Neo QLED panel for superior native 4K resolution and upscaling of non-4K content. The HDMI inputs support AMD FreeSync technology, which has a variable refresh rate to ensure smooth playback and avoid screen cracking or stuttering that spoils a good gaming experience. Thanks to target tracking sound and Dolby Digital Plus audio technology, you get rich, immersive sound without additional equipment; although it is possible to configure wireless sound bar via Bluetooth or subwoofer with HDMI ARC connections for maximum gaming setup.
Best mid-range: TCL 55-inch 6-Series 55R625
If you want to invest in a solid gaming TV that offers everything you need to crush online matches. This mid-range TV offers excellent 4K resolution, so you can take advantage of consoles like PS4 Pro, PS5 and Xbox Series X; and with Dolby Vision HDR support, you get enhanced detail and contrast that make your games even more realistic. A special THX-certified game mode automatically adjusts picture and sound settings to create a more cinematic experience when you turn on the console. The TV supports variable refresh rates, so you can say goodbye to screen tearing and stuttering. The TV has 4 HDMI ports, including an HDMI ARC to set up multiple consoles, playback devices, and even home audio equipment. The rear of the TV has built-in cable management channels that keep the space neat and tidy and extend the life of the cables.