5 Best Smart TVs for Streaming in 2022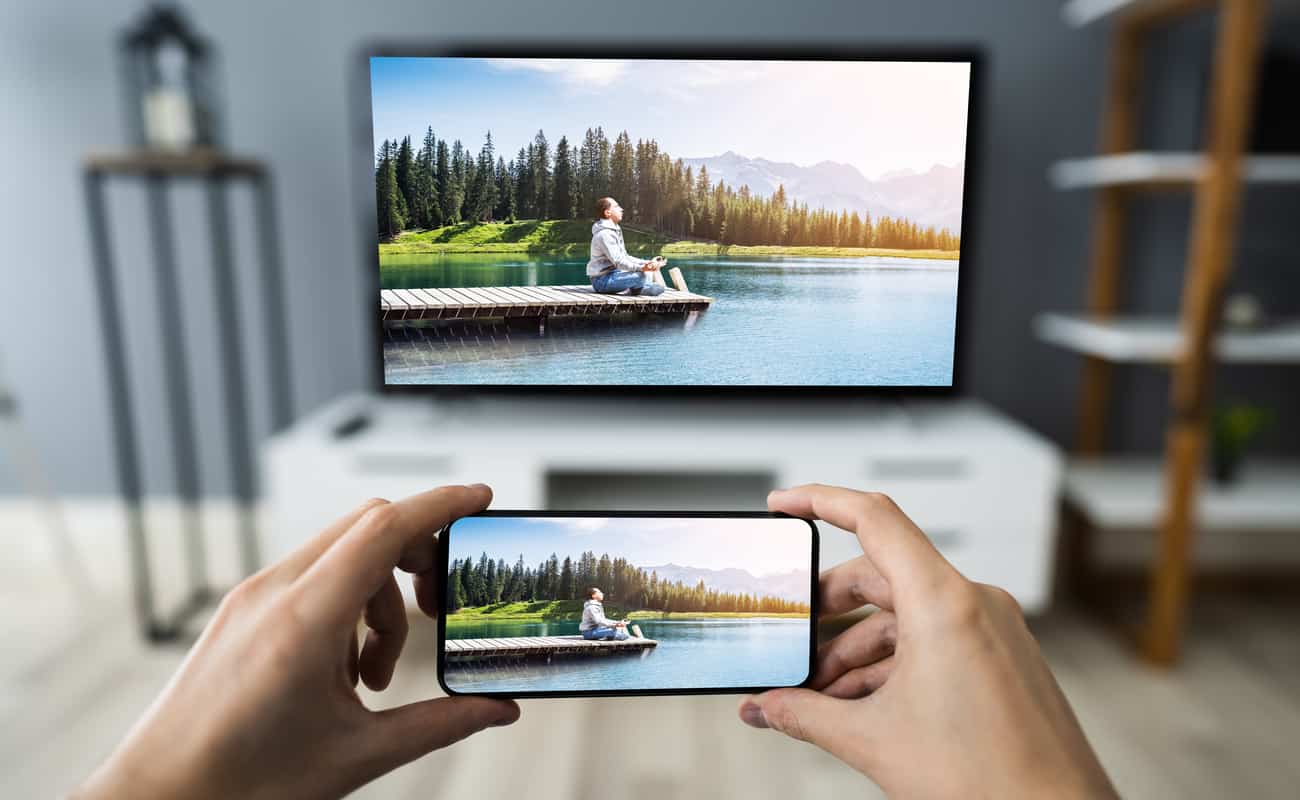 Smart TVs are everywhere in home entertainment, and as they've grown in popularity, they've also become much more affordable. Customers no longer need to use their savings to access streaming services such as Hulu, Spotify and Netflix, or 4K resolution. Even smaller brands like TCL have established themselves as the best choice for affordable smart TVs; The Roku platform also uses a simplified hub menu to make it faster and easier to access your favorite playback apps and devices from a single screen. Many new smart TVs have a voice-activated remote control that works with a built-in virtual assistant or an external smart speaker like the Amazon Echo or Google Nest Hub Max for complete voice control. Samsung's latest Neo QLED series also features solar-powered remote controls, eliminating the need to change batteries and making your home theater a little greener.
Other smart TVs available work with virtual surround sound technology such as Dolby Atoms for immersive sound without the need to purchase additional speakers or sound bars. though you can use the HDMI ARC inputs or Bluetooth to set up satellite subwoofers to boost bass or wireless home theater. Brands like Samsung, LG and Sony have taken the next step in home entertainment and have released 8K resolution TVs; However, these models are incredibly expensive and native 8K content is not yet available. But if you want to stay on the cutting edge of home entertainment, they're a worthwhile investment. We've rounded up our top picks below and broken down their features so you can decide which is right for your next smart TV.
Best Overall: Samsung QN55QN85AAFXZA 55-inch 4K Neo QLED TV
This is one of the latest TVs announced by Samsung at CES 2021, and it offers a whole new set of features to enhance your home entertainment experience. It uses an all-new mini LED panel and Samsung's QLED technology to create individually lit pixels, a wide color gamut and contrast that rivals OLED TVs. The updated processor uses a neural network that learns as you watch to improve non-4K content for better scaling and always a beautiful picture. With the Tizen operating system, you get a bunch of preloaded apps like Prime Video, Netflix, and Samsung TV+ that let you access live entertainment, news, and sports without an expensive cable or satellite subscription.
The built-in speakers use Samsung's new Space Fit Sound technology, which works with green sensors to create a personalized virtual surround sound experience that fits almost any room in your home. The voice-activated remote control works with Bixby, Alexa and Google Assistant for hands-free control. And its sleek, high-end design and One Connect compatibility add a sophisticated touch to your home theater and give you a very stylish space.
Best budget: TCL 40S325 40-inch 1080p
Good TV doesn't mean you have to spend a fortune. The TCL 40S325 retails for under $300, making it perfect for even the tightest of entertainment budgets. With the Roku platform, you get your favorite streaming apps like Netflix, YouTube, and Hulu preloaded so you can watch movies and shows right away. A simplified main menu makes it easy to select applications, playback devices, game consoles and even TV inputs without having to remember HDMI input locations or navigate through confusing menus.
The 40-inch screen produces an incredible 1080p resolution, so all your favorite shows and movies look great. The Roku app turns your smartphone or tablet into a voice-activated remote for easy search and navigation, or you can connect your TV to an Alexa-enabled smart speaker or Google Assistant to expand voice control. The TV has a headphone jack for private listening and gaming when you don't want to disturb others in your home, apartment or student house.
Best Value: Samsung QN655QN90AAFXZA Neo QLED 65-inch 4K TV
If you're willing to pay a little more to get the most out of smart TVs, the Samsung QN90A is a worthwhile investment. Like its brother, the QN85A, it uses a new mini LED panel and Samsung's QLED technology to create an image that rivals OLED. it also uses a neural network processor for non-4K content, contrast, and color gamut. It is compatible with Samsung's One Connect box, which allows you to connect all game consoles and playback devices to your new TV with one cable, giving you a very cool looking home theater.
The voice-activated remote works with Bixby, Alexa or Google Assistant for hands-free control, or if you have a SmartThings hub, you can connect your TV to it to integrate the TV with other Samsung smart devices. Whatever the size or shape of your living room or home theater, with object-tracking sound and new Space Fit Sound technology, you'll get incredibly immersive and enveloping sound without installing a soundbar or other home audio equipment. . With the improved Multi-View feature, you can now watch up to 4 videos simultaneously and if you have Samsung mobile devices, you can instantly share your screen by tapping it on your TV.
Best OLED: Sony A90J Bravia XR 65-inch 4K OLED TV
Sony also announced a new line of televisions for 2021, including the latest Brava XR OLED models. These TVs use state-of-the-art OLED technology to create truly stunning images with realistic colors, contrasts and textures. The all-new processor has been enhanced with artificial intelligence, improving the upscaling of non-4K content and improving the details in native 4K images. Brava XR uses Sony's Acoustic Surface Audio+ technology to turn the entire screen into a speaker for near-perfect audio and video synchronization and better bass for more immersive cinematic experiences.
The Google TV platform gives you access to thousands of streaming apps such as Netflix, Disney+ and Spotify and offers a wide range of entertainment options. and with Chromecast and Air Play 2, you can share the screen of your iOS or Android mobile device for more ways to watch videos, photos or listen to your favorite music. The voice-activated remote works with Alexa or Google Assistant for hands-free control, and you can also connect this TV to Apple Home Kit to use Siri for voice search. If you've managed to get your hands on the new PlayStation 5, Brava XR supports variable refresh rate technology, which syncs your TV's refresh rate with the console to reduce stuttering and stuttering that can ruin a session.
Best Big Screen: Samsung UN85TU8000FXZA 85 inch 4K UHD Crystal TV
Whether your living room is on the larger side or you're planning to convert your finished basement into a home cinema, you need a suitable TV and the 85″ Samsung Crystal UHD TV is made for big screen entertainment. It features an updated Crystal 4K processor and the new Tizen OS, which uses HDR10+ technology to create stunning 4K resolution and colors, and provides access to all your favorite next-generation movies and series and apps to keep you on track. to keep you informed. on the edge of home entertainment. The screen has an exceptionally narrow bezel that provides an edge-to-edge view for a more immersive viewing experience from almost any angle. The back of the TV features built-in channels for cable management and stands to keep cables organized and tangle-free for a sleek looking home theater setup.
The voice-activated remote has Bixby and Alexa built in and works with Google Assistant, so you can use your favorite virtual assistant with your new TV without an external smart speaker. Bluetooth connectivity lets you wirelessly connect speakers, sound bars and subwoofers for a complete home theater setup, while Apple AirPlay2 and Smart Cast allow you to mirror the screen of your iOS and Android mobile devices. Ambience mode turns your new TV into a work of art or furniture when not in use, to blend in with the aesthetics of the room or to showcase your favorite paintings and photos. The TU8000 has a V-chip that allows parents to prevent their little ones from watching inappropriate programs and movies, providing family-friendly entertainment. At under $2,000, the TU8000 is one of the most affordable big screen TVs out there.