8 Best 40-Inch Smart TVs of 2022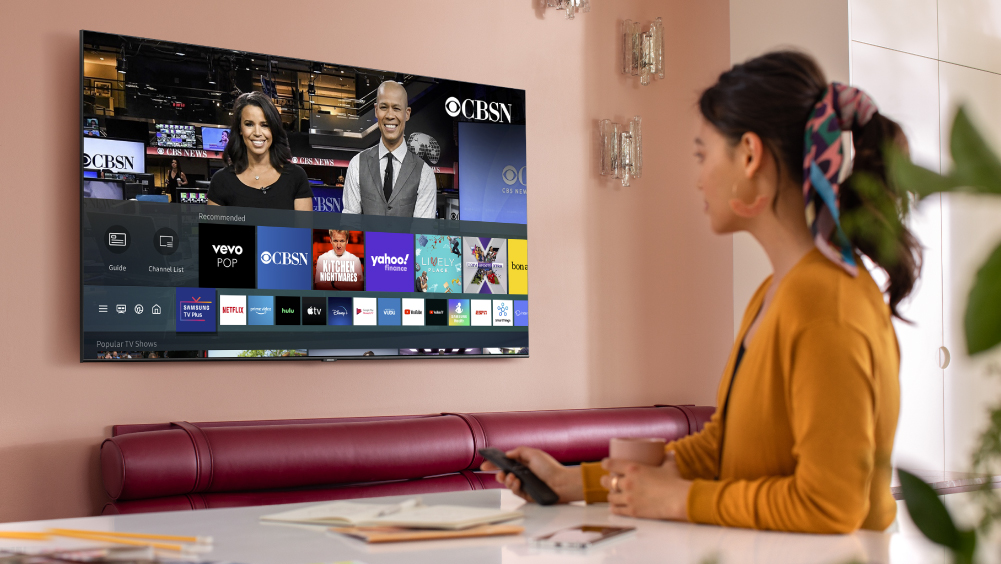 If you need a TV for a smaller room, a 40- to 48-inch TV is large; you can sit close enough to a 40-inch 4K TV without negatively affecting picture quality. The 43- to 48-inch model can be great for a small living room or if you're dealing with limited wall space, and some lifestyle models blend seamlessly into your home decor or stand out and act as a conversation piece.
Because 40-inch TVs work so well in different environments, it's good to think about how you use the TV. An affordable 1080p model will work well in a guest room or nursery, but you may want to consider a more expensive OLED model with the latest High Dynamic Range (HDR) technology if you use your living room TV for watching movies or playing games. . .
We have identified the best options for different needs. Here's our pick of the best 40-inch smart TVs.
The best package: Samsung QN43Q60AAFXZA 43-inch 4K QLED TV
The 43-inch version of Samsung's Q60A series finds an almost perfect balance between functionality, performance and affordability. It has a 4K QLED panel that supports HDR10+, resulting in ultra-vibrant colors and deep blacks. It's also bright enough to look good in most lighting conditions, even with lots of natural light in the room.
Scaling works well too, so you don't have to worry about broadcast TV channels or your DVD collection looking blurry on a 4K screen. The solar powered remote control is another useful feature that you don't see very often. Because the remote automatically charges when exposed to light, you'll never have to search for batteries again.
Runner-up, best overall: Sony X80J
The 43-inch version of Sony's X80J has a 4K LED display that supports both HDR10 and Dolby Vision. Colors are stunning in supported content, even if the screen isn't bright enough to bring out colors in HDR-capable movies. The IPS screen has some contrast issues that hold this TV back a bit, but it generally performs well considering the price and performance.
It is more suitable for watching TV programs, including updated content of TV and DVD broadcasts. However, the exceptionally low input lag makes it a decent option for gaming, and the excellent response time is perfect for watching fast-paced sports.
Best features: Samsung AU8000 Crystal UHD 43-inch Smart TV
The Samsung UN43AU8000 is a 43-inch UHD TV with a surprising number of features in a very slim profile. The 4K screen is crystal clear, colors stand out with HDR10+ support, and upscaled DVD and TV content looks great. This model comes with a voice remote that supports three different virtual assistants instead of one, giving you hands-free access to Bixby, Alexa, and Google Assistant instead of being limited to just one.
It also includes Samsung TV Plus, which gives you free access to great streaming content and even offers personalized recommendations to help you find what to watch next. And if you want to share from your phone, PC, or Mac, you can do it with One Touch Broadcast, which works on compatible Samsung Galaxy phones.
Best budget: TCL 40S325 40-inch
The TCL 40S325 is an easy-to-use option, good if you're on a budget. The 40-inch LED panel offers a wide picture in Full High Definition (FHD) mode, which means it can display a maximum resolution of 1080×1920. That's more than enough for this size. While the TCL 40S325 lacks some of the options found on more expensive TVs, it's packed with plenty of features despite its reasonable price.
It has Roku built in, which means you can stream content from your favorite sources like Netflix and Disney+ without having to invest in an extra streaming device. It supports broadcast TV if you have an antenna or cable, and you can even control it with a smartphone app. You also have three HDMI ports for connecting game consoles and other devices.
Best-in-class design: 43-inch Samsung SERIF QLED
If you're looking for a TV that impresses and can also be a conversation piece, Serif is the perfect choice, with a unique I-frame and long trestle legs that evoke a mid-century modern decor. It doesn't have the best panel and doesn't support advanced video technologies like HDR10+ or ​​Dolby Vision, but the picture is decent enough.
The killer feature here is that it doesn't look like a TV. You can set it to display photos or artwork when you're not using it, or you can take a photo of the wall behind the TV with the companion app and the screen will show the wall behind it, making it appear transparent. Serif also supports NFC media connectivity, so you can place your phone on top of the TV to stream music easily and without much hassle.
Best for Gaming: LG OLED C1 Series 48″
The LG OLED C1 is large enough to be wall and sofa mounted for comfortable console gaming, but should also be considered a PC monitor. It's big enough to use on a desk as a PC gaming monitor, but the beautiful OLED panel is worth a try if your desk is big enough.
It has full support for both AMD's Free Sync and Nvidia's G-Sync, and with a native refresh rate of 120Hz, it's just as suitable for high-end PC gaming as it is for next-gen console games. The OLED C1 has HDR10 and Dolby Vision support for color contrast and enhanced detail, and enough HDMI ports to connect a PC, some game consoles, and Ultra High Definition (UHD) streaming devices such as Apple TV 4K, so you can between game sessions.
Best photo: 43-inch Samsung QN90A Neo QLED
The Samsung QN90A hits all the weak spots when it comes to image quality. It has a 43-inch Neo QLED panel, which is an upgrade over the regular QLED with Mini LED backlighting. This gives it tight control over the precise brightness of specific areas of the screen, a feature known as full matrix local dimming.
It also has excellent viewing angles, so you can enjoy a sharp image almost anywhere in the room without dimming or changing color. It's exceptionally clear even in HDR mode and supports HDR10+ video technology for better clarity and color contrast. The built-in AI scaling is spot-on too, meaning low-resolution TV shows and movies from DVD and cable look great.
Best Deal: Samsung The Frame QLED 4K Smart TV (43-inch)
The Frame is a 43-inch Samsung TV that looks like a frame. You can mount it flush with the wall and it can display artwork when not in use. With a built-in motion sensor, The Frame's Ambient Mode can dynamically switch between art and TV when it detects your presence in the room. It also uses a single clear interconnect cable that plugs into a control box that you can hide in a cabinet for a cleaner installation.
The 4K image is razor-sharp and clean thanks to the QLED panel, so you can also use this TV as a PC monitor if necessary. It's also great for video games thanks to its ultra-low input lag and looks great in bright light, so you can hang it in almost any room.
Final verdict
If you want a nice TV, whether you watch movies, sports or play games, the 43-inch Samsung Q60A (see Amazon) is the best choice. With an exceptionally thin bezel and a beautiful QLED display that benefits from HDR10+ support, it covers all the bases and is reasonably priced. The 48-inch LG OLED C1 (see on Amazon) is a great choice if you're serious about gaming and can even double as one of the largest PC monitors you've ever used.
What to look for in a 40-inch smart TV
Panel style and resolution
When you compare 40-inch TVs, you'll see terms like OLED referring to the technology used to display images. OLED panels produce the best image quality with excellent contrast and rich colors. QLED and LED panels are cheaper, but the image may not be as bright and the contrast may be lower. Advanced versions like Neo QLED offer an OLED closer to quality, and technologies like Mini LED backlighting, which illuminate specific areas of the screen, can help too.
High-resolution TVs have better picture quality. If your TV's resolution is too low and you're sitting too close, you may be able to distinguish individual pixels in the picture, which is visually like looking at the world through a screen door.