Chromecast with Google TV Review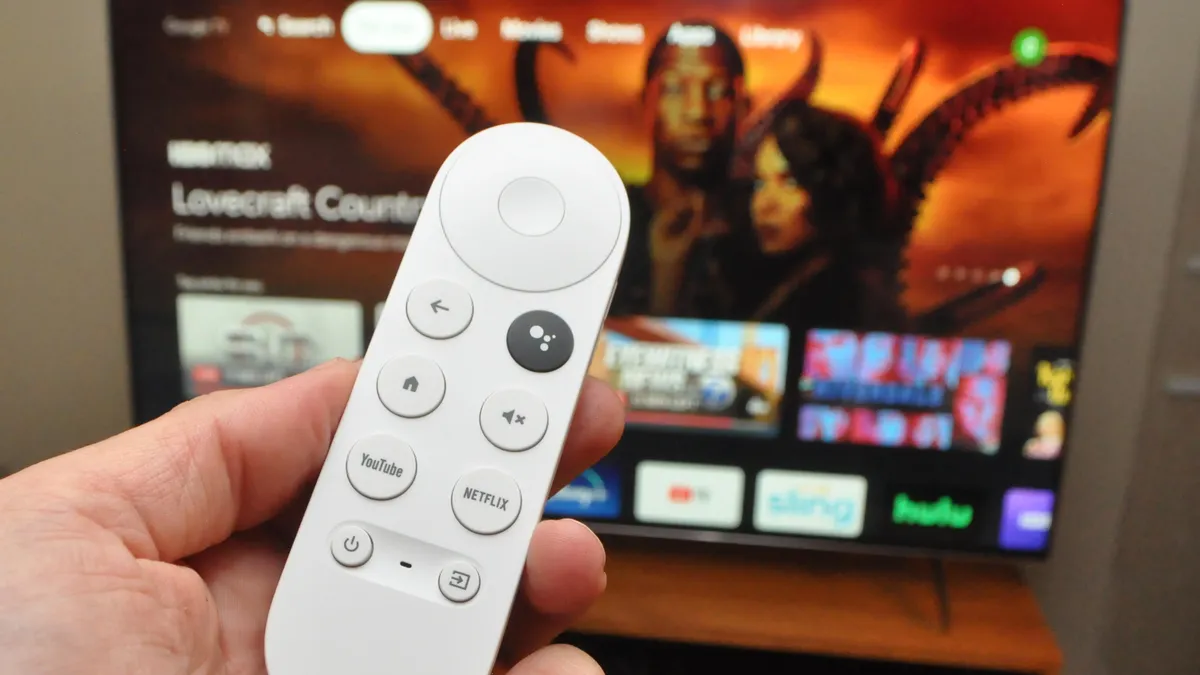 We bought the Chromecast with Google TV so our expert reviewer could thoroughly test and evaluate it. Read our full product review.
Okay Google, give us a streaming device with 4K HDR and a voice remote with Google Assistant for under $50. The new Chromecast with Google TV is going to be one of the best streaming devices out there with a new remote and other feature updates in the series. But is the new Chromecast with Google TV a worthy competitor when you compete with Amazon's new ultra-affordable Amazon Fire TV stick and Roku's streaming devices? I tested Chromecast with Google TV for a few days to find out. I was particularly interested in the design, installation process, streaming performance, software and features.
Design: looks good, without Ethernet
Chromecast with Google TV is a small, oval device that comes in three colors: snow (white), sunrise (peach), or sky (blue). For this review I tested the color of the snow. The device is quite small, about three centimeters high. But at 2.4 inches wide, it's wider than most stick-style streaming devices, so it has a roughly 3-inch HDMI cable on one end that plugs into your TV's HDMI port. With a small HDMI cable on the end, you can connect the device to a TV or receiver without blocking other ports.
On the other side of the Chromecast is a USB-C female port that the USB power plugs into. I haven't been able to power the Chromecast via USB like other streaming sticks, so I had to plug in the power supply. I was disappointed when I got an error message when I tried to use the TV's USB port as a power source. I also didn't like that the Chromecast doesn't have an Ethernet port for a wired connection. However, I appreciate the live plugin's small size and style, as streaming boxes tend to take up unnecessary space.
Installation process: follow the instructions
Setting up Chromecast is easy, but you do need a Google account and the Google Home app. If you already have the Home app, it's even easier to get started. Insert the supplied AAA batteries into the remote and set them aside. Connect the device to an available HDMI port on your TV or A/V receiver and plug the power cord into one end of the Chromecast and the other end into a power outlet. After you've turned on the TV and connected it to the correct input, you'll need to add the device to the Google Home app. Chromecast gives you a QR code to scan and the app walks you through the setup with simple instructions.
Streaming Performance: Fast and 4K
Chromecast with Google TV has an intuitive user interface, excellent video capabilities, and fast performance. The main home screen features content from various streaming providers, so you don't necessarily have to log into each app to find your favorite show, documentary, or movie. This is very useful and the main "for you" screen contained content that I was really interested in looking at.
The only problem is that it shows paid and free movies together in the same areas, making it hard to tell the difference until you browse (or near) the content. I was frustrated when I saw Wonder Woman trending on Google and thought to myself, "Ooh, I'll check that out later," only to see the movie cost $3.99 when I hovered over it. The new Chromecast supports up to 4K HDR at 60 frames per second, as well as various HDR video formats such as Dolby Vision, HDR10 and HDR10+. It also has Dolby Atoms compatibility.
Software: Google TV
Chromecast runs on Android TV as its operating system, but it is a version of Android TV designed for Google. It has almost all popular streaming apps, including Netflix, Hulu, Sling, Disney Plus, Prime Video, YouTube TV, HBO Max, and Peacock.
Chromecast with Google TV is expected to get support for Stadia in the first half of 2021. If you want Stadia, you can use Google's game service on Chromecast Ultra, download the app for Chromecast now with Google TV, or wait for Google to officially release it. You can also play other (non-Stadia) games with the remote, such as PAC Man, Crossey Road and Orbit.
Features: Includes Google Assistant
The Google Assistant on the remote adds many utilities to Chromecast with Google TV. You can search for content, ask questions, and even control your smart devices with your voice. For example, if you install smart lights in your TV room, you don't even need a smart speaker. You can just say "Ok Google, turn off the lights in the TV room" without getting off the couch.
The Google TV remote can be used to control a TV or sound bar, so you don't need to hold more than one remote. Turn on the TV, adjust the volume or use the streaming function to mirror the Chrome browser to the TV. And with around 5,500 apps to choose from on Google TV, you can customize your experience by adding a variety of different apps to the interface. The new Chromecast now has a deal where you can get $ 60 off YouTube TV for the first three months if you need live TV (valid 1/31/2021).
Chromecast with Google TV
Amazon's latest Fire TV Stick comes in a standard version which costs $ 40 and a lite version which costs $ 30. The standard version has the controls for the TV and sound bar, while the lite version does not have these controls. The new standard Fire TV also has Dolby Atoms, while the lite version only has Atoms pass-through. Both versions offer HD streaming, but not 4K streaming like the more expensive Chromecast with Google TV. You need a 4K Fire TV Stick to stream at a higher resolution.
Both new Fire TV Sticks have Alexa voice control and a 1.7GHz quad-core processor. The Chromecast has a 1.9GHz quad-core processor (according to GFXBench), so it's only slightly better than the new Fire sticks. TV in terms of CPU power.
Final judgement
Fast and high quality, there's a lot to love about the new Chromecast.
Chromecast with Google TV delivers a full streaming experience with excellent video quality, Google Assistant, and an all-encompassing remote. It's a great competitor to the Amazon Fire TV with a smooth user interface and responsive processor.