The influence of colour in high jewellery through the decades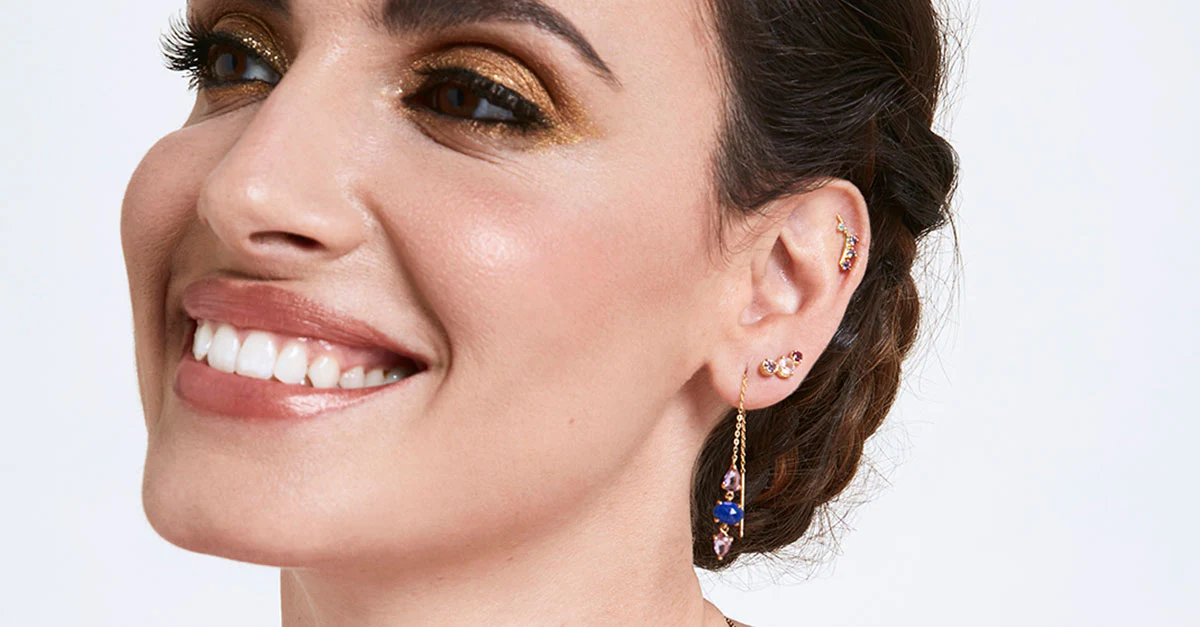 Rainbows hand-painted by children and placed on the windows of homes across the country have become one of the lasting images of the coronavirus pandemic. They symbolized hope and solidarity, their happy colors were a moral support for everyone. Nature's weather spectrum with its bright hues has also served as another inspiration, which has made jewelry designers excited to look at Mother Earth's vast selection of gemstones and stack them all together in rainbow-colored jewelry.
Jewelry is currently having a happy time with the abundant colored sapphires, tourmalines and beryl's in almost every shade, and of course the yellow and brown shades of the gorgeous colored diamonds that are emerging as new favorites. However, the color slips in and out of fashion. We may be dazzled by bright colors today, but in the Roaring Twenties the Art Deco aesthetic was very monochromatic with diamonds, pearls and onyx set with beautiful emeralds or rubies.
Jewelry fashion is also influenced by new gemstone discoveries. Diamonds dominated fine jewelry in the late Victorian-Belle Époque era after new sources were discovered in South Africa. Saturated blue aquamarines discovered in Brazil at the turn of the century created a perfect marriage in diamond jewelry, while the Ceylon sapphire exhibition gifted to Edward VII in 1875 started the sapphire jewelry trend in the 1890s.
In 1903, Tiffany introduced kunzite, a purplish-red gemstone found in California, and named it after their lead gemologist, George Frederick Kunz. A few years later, another pink stone appeared in their collections, morganite, a pink-orange beryl named after the American financier and philanthropist J.P. Morgan, which ushered in the era of pink jewelry.
In the 1960s, tanzanite, a bluish-purple gemstone, was discovered at the foot of Mount Kilimanjaro in Tanzania (hence the name) and became an instant hit with jewelers for its unusually vibrant hue and clarity. In 1974, the deep green Kenyan tsavorite garnet added a new and rich shade of green to the palette of emeralds, peridots and jade. Then came the highly prized Paraiba tourmaline, a sparkling neon turquoise gemstone discovered in 1989 in the Paraiba region of Brazil. That's its rarity (although there have been later finds in Nigeria and Mozambique) and that's why precious Paraiba tourmalines are featured in cocktail rings and earrings.
A hundred years ago, jewelry was at the mercy of diamonds and colorless stones such as rock crystals. Cartier had explored the exoticism of Persian and Egyptian style in the 1910s, inspired by Diaghilev's Ballet Russe. This was before Tutankhamun's tomb was discovered in 1922, sparking a craze for ancient Egyptian turquoise and lapis lazuli color combinations. However, Cartier's graphic combinations of baguette-cut diamonds, moonstone, pearls and black onyx with hues of emerald, jade and rubies began to appear in the early 1920s and continued to define an era of art.
This was a wildly creative time for the house as Jacques Cartier traveled to India and brought back beautifully carved emeralds, sapphires and rubies with diamonds and onyx set in platinum and created one of their famous turn-of-the-century teats. Frutti Styles 20. India has had a huge influence on Boucher on, which can be seen in the collections even today. They, like Cartier and Van Cleef & Arpels, have received many commissions from Indian Maharajas to restore precious jewels in European style.
In the late 1930s, Cartier and Van Cleef & Arpels moved away from the beautiful black-and-white graphic juxtaposition of Art Deco design and introduced yellow gold and warm-colored gemstones such as citrine, as well as more precious rubies and sapphires. Gemstones have become more colorful and naturalistic. The colored gemstones are inspired by the flower bouquets and beautiful ballerina pins designed by Van Clef & Arpels in the 1940s. Pearl necklaces were worn by women during the day, but by the early 1950s, diamonds were back in fashion as classic monochrome flower and lace necklaces made by both French houses and New York jewelers such as Harry Winston.
Until now, Bulgari had followed a French aesthetic with floral designs of yellow diamonds and cognac, but within a decade had expanded its ramifications and experimented with striking color combinations for a chromatic effect. They began using smooth cabochon cuts for the triumvirate of red, green, and blue, as well as oversized shapes, but in the mid-1960s they explored a wider palette of shades, such as amethyst and turquoise in necklaces, adding coral, citrine, jasper and other colors. for necklaces in the early 1970s.
In 1968, Van Cleef & Arpels launched the distinctive Alhambra design, a high jewelery collection with a square pattern filled with various semiprecious stones such as carnelian, lapis lazuli, coral, agate and onyx. In the 1970s, many other semi-precious stones were added, such as malachite and tiger's eye. Simple sautoirs and large pendant necklaces adorned with semi-precious stones dominated fashion throughout the decade, but by the 1980s the trends had gotten much more flamboyant with yellow gold, large pearls and colored gemstones.
After the financial crisis of the late 1980s, there was inevitably a backlash against such flamboyant displays and in the early 1990s a modern minimalism of silver, white gold and small diamonds reigned – jewelry became very subtle. Meanwhile, talismanic semiprecious stones (soft to the touch, not faceted), opals and quartz crystals have been incorporated into high-end jewelry pendants and bracelets to complete the boho-vintage fashion trend.
However, the diamonds are back: the rise of hip-hop music and influential rappers like Puff Daddy (as he was then known) showed a preference for "bling" at the turn of the millennium, thus breaking taboos. Suddenly, white gold diamonds were seen as frozen and available to everyone.
The Italian brand Pomellato, on the other hand, explored the "new gems", with aquamarine, tourmaline, chrysoprase, spinel and demantoid garnet in their gorgeous colored jewels, culminating in the launch of their signature Nudo ring in 2001.
While diamonds are still a dominant force in jewelry design, from engagement rings to tennis bracelets to chandelier earrings, color has become increasingly prominent in the designer repertoire with a library of multicolored sapphires, tourmalines, tsavorites, spinels, chrysoberyls, opals and worse. – famous gemstones that inspire today's jewelry palette.